When its yellow bar slowly falls to a halt, its red stop sign pops forward and its alternating red lights flash, I know I must bring my vehicle to a stop, so children crossing the street or road can safely board or deboard their school bus.
Every state requires by law that motorists must stop for school buses or face consequences, but not every driver respects those laws. In Maryland in the 1980s, I was hit by a driver while I was crossing the street after leaving my yellow school bus.
Even though I was not injured, this incident had a ripple effect that impacted my mother and me for years.
Because of distance and income, not all children have access to a private vehicle or can walk to their school, resulting in millions of school-age children taking the bus each year.
My son, Joseph, has been taking a school bus for several years. Because his school is more than 30 minutes away from where we live, the monthly bus payment is cheaper than the per-gallon cost to fill my gas tank and drive him there daily. Plus, I could not drop him off at school and arrive at work on time.
Morning bus stop routine
So, every morning, I drive him to the bus stop, a fire hall several blocks from our house, and park in the lot with other parents and their children to wait for the bus to arrive around 7 a.m.
Once the bus appears, traveling along the turn in the road, Joseph grabs his backpack, gym bag and lunch bag; walks across the lot to the road; and waits until the bus comes to a full stop and then activates the stop arm, stop sign and flashing red lights.
I watch every motorist, the drivers in the opposing lane and those behind the bus, to make sure they are stopped until the bus operator returns the metallic arm and stop sign to the side of the bus and turns off the flashing red lights.
Thankfully — knock on wood — the motorists wait patiently even if they may be rushing to work.
Nationwide, the number of school bus-related deaths is minuscule compared with the tens of millions of children who ride buses to and from school every day. In 2019, 109 people nationwide died in crashes involving a school bus, including incidents with school-age children boarding or deboarding a bus, according to the National Safety Council.
Fortunately, the overwhelming majority of motorists have been following their state laws, but the threat is still real — and should be taken seriously.
Being hit by a car
Every morning for eight years, my mother took me to the bus stop at the top of our street, a walk of about five minutes from our townhouse in the Owen Brown Village in Columbia, MD.
Winter, spring and fall, regardless of the weather conditions, we stood on the sidewalk of a busy road with two-lane traffic. In the morning, the bus picked me up on my side of the road, so I did not have to cross the street to board it.
The afternoon, however, I had to cross the road after I exited the bus. For years, I did so safely.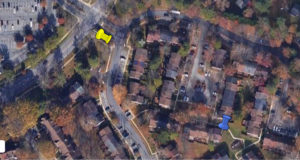 This screenshot shows my neighborhood several decades after my school bus-related accident. The yellow pin marks the bus stop on Cradlerock Way and the blue pin, my family's townhouse on Lasting Light Way, in Owen Brown Village in Columbia, MD. ScribbleMaps.com
Until one afternoon.
I was 11 years old at the time.
I remember a sunny day with blue skies. Being a latchkey kid, I was looking forward to getting home, enjoying a snack and lumping out for a couple of hours in front of the television before jogging around the lake with my dad and starting my homework
As I walked down the steps of the bus, I said goodbye to my bus driver, Jane. An attractive woman in her 20s or 30s, she had long, blond hair, parted in the middle with bangs, and was friendly yet stern.
I felt her watchful eyes on me when I disembarked from the bus with its red lights flashing and began to cross the road. (The bus was not equipped with a stop sign or stop arm.)
Then, I remember feeling a car bumping into my right side and me hitting its hood with my right hand and yelling at the motorist in protest. I was not hurt but I was hit.
I don't recall many more details from that day. Jane was angry and she yelled through her small window to the young driver, who laughed and drove away. My parents were outraged. And someone called the police to report the incident.
I was too young to comprehend the dangerous situation I had experienced. I just knew that I could carry on with my day despite being shaken.
'Am I going to jail?'
My incident did not disappear. From my perspective as a child, it took on a life of its own as more people became involved.
After the police report was filed, paperwork arrived in the mail with a traffic court date in Ellicott City, MD, and the name of the driver who hit me.
Days, weeks and months passed until that day arrived. Up to that time, I had been playing sports, going to school, hanging out with my friends and wondering if the cute boy in my class liked me. As an 11-year-old girl, I could never have anticipated the fear and unfairness I would experience in that Howard County courtroom.
The morning of the court date, I remember walking down a small flight of stairs to a hallway where my mother and I met Jane and the police officer who investigated our case and filed the report. I don't recall seeing many other people. I felt oddly alone.
Inside the courtroom, we joined the driver, a young, disheveled man in his 20s, and his attorney, a swarmy, older man in his 50s, as well as the judge, who sat aloof in his black robe behind the bench. We, unfortunately, did not have any legal representation. I suppose the adults did not believe we needed one because we had the truth on our side and strong witness testimony.
I recall the room itself feeling small with light, mint green paint on the walls and dark wooden tables, chairs and benches. My surroundings made me feel confined and trapped.
After the court proceeding began, the judge asked that Jane, the police officer and I leave the courtroom and wait in the hallway until we were called to testify. My mother waited with me and conversed with Jane and the police officer like adults do, questioning and wondering what was going on and why.
One by one, we were brought into the courtroom to testify before the judge and answer questions posed by the attorney. Then, one by one, we returned to the hallway after we gave our testimony. The accused driver and his attorney, however, remained in the courtroom the entire time.
The entire proceeding was fraught with injustice, corruption and partiality.
The humiliation and accusations Jane endured.
The disregard and insult the police officer experienced.
And the terror and fear I suffered.
Before I was placed on the stand, I asked my mother:
"Am I going to jail?"
Bewildered, she said no; she knew I was scared. I was just a child.
As I discussed this topic with my mother recently, she reminded me of that question, the one she never forgot, the one that sprung from my believe that I would be imprisoned if I did not answer the questions the way "they" wanted me to.
When called to testify, I was alone on the stand — and I answered the questions "they" wanted me to.
They intimidated an 11-year-old girl so much so that the judge found the driver not guilty — of anything — and let him go.
Jane, the police officer and my mother were shocked and angry.
I was in a state of disbelief. How could a man who hit me with his car get away with it? No consequences whatsoever! That day I learned that the judicial system would not protect me. Or worse, I was not worthy of its protection.
Even though the verdict had been passed down, the aftershocks would be felt for months and years.
Letters with teeth
The sides of my mother's hands were bruised for days from she banged them furiously and repeatedly on our car's steering wheel following the judge's decision.
Over time, the discoloration and pain in her hands subsided but her outrage was insatiable.
She decided to funnel her anger into a letter-writing campaign. She would not be silenced. She would seek justice!
Sitting at her typewriter, she banged out one letter after another detailing the illegality of interrogating a minor in a case like this. It was illegal to interrogate a child younger than 12 under the circumstances I endured.
Letter after letter was mailed to government officials and lawmakers, one of which was the Howard County police chief, who visited my mother in person.
He empathized with her anger over my mistreatment in court and indicated there was little he could do, but he did suggest that she contact a specific judge who oversees the other judges in Howard County.
She followed his advice and mailed a letter to that judge, who, in turn, sent her an official apology for our judge's behavior.
We never heard of any disciplinary action taken against the judge in our case through news reports or other sources, but a strikingly similar case to mine came before that same judge and he ruled against the driver.
Job loss and a speeding ticket
While my mother fought for justice, Jane ended up leaving her job as a school bus driver. I have not seen her since, but I think about her courage often.
She stood up against a judge, an attorney and ignorance. They made her appear irresponsible even though she was not. I know because I was there!
The police officer for our case discussed with my mom and Jane the corruption of the local legal system. He wanted to quit but he said he couldn't. Perhaps, he ended up leaving. I may never know but I will never forget his tenacity and strength.
As I grew older, this experience faded into the background until decades later I received a speeding ticket in Howard County, MD.
And my judge?
You bet, the very same one!
At the hearing, he barely looked up from his paperwork when I stepped forward. He had to have recognized my last name. The only people with my last name in the United States are my family members. And my mother's letter-writing crusade must have made a lasting impression on him.
I plead not guilty.
He dismissed my case.
And I walked out the door — in less than five minutes.
Oh, the irony!
Back to school
Many of our children are returning to school after several months of virtual learning.
School buses have not been in use and many parents and adults were tending to children or working remotely.
Now, we have to share the roads again as buses join our rush hour madness and more people are going back to work.
Please be safe and look out for each other!
And remember to stop, stop, stop!
On Thursdays, I share a blog about a day in the actual life of a single parent.
Starting the summer of 2021, my son, Joseph, is writing a monthly column titled In My Son's Words where he describes his experiences as a teenager and as a child of a single parent.
Twice a month, instead of a personal post, I put together one where I assemble news on and about single parents nationally and globally.
I would love to hear from you! Feel free to send any comments and questions to me at singleparentandstrong@gmail.com. I am also on Twitter @parentsonurown and on Facebook.