For nearly a year, I have been blogging about my life as a single parent and meeting some wonderful people along the way, particularly on Twitter.
One of them is Stephanie, a tireless blogger of onecaringmom.com and a wonderfully charming person, who invited me to participate in the Random Facts About Me tag.
In her recent post, she shared some amusing facts about herself and inspired me to do the same.
Some of my posts explore serious topics, such as narcissism and the Baby Scoop Era, and others point out humorous and lighthearted moments, including my son's first driving experience.
But this one? I just want to have a little fun!
And the seven random facts about me are (drumroll, please) …
Love me some pickle juice
I can't get enough of that mouthwatering, vinegary goodness.
Sometimes I eat the entire jar of pickles — in one sitting or over a day or so — and then treat myself to the juice, one sip at a time.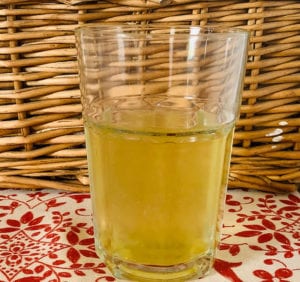 But there are times when I can't wait. Carefully keeping the pickles in the freshly opened jar, I pour a small glass of the juice and savor it.
The juice can be room temperature or cold — it doesn't matter. It always tastes yummy.
Discovering that pickle juice, which contains potassium and sodium, helps restore electrolytes after a workout has been an added bonus to my obsession.
Have a flat tire? Give me a call!
I can change any tire as long as you have a donut. I've not advanced to the level of patching holes — at least, not yet.
I learned this skill out of sheer necessity when I lived down the road from a housing development that was under construction. Nails that must have fallen from the construction vehicles managed to puncture my tire on several occasions.
So many mornings, I would walk to my car in the driveway and find a deflated tire waiting for me.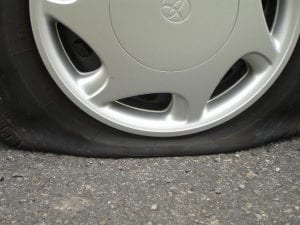 The first time, I was in a state of panic. I had never changed a tire in my life, but the idea of replacing it with a donut seemed easy enough. And since I was alone facing this flat, it had to be easy. It just had to be.
First, I had to tackle the lug nuts.
Removing those tight buggers was no easy task. Doing so involved me standing — then jumping — on the tire iron until they were loose enough for me to remove by hand. I wouldn't advise the jumping part. That was crazy! I could have bent the tire iron or hurt myself, but it did the job.
Next, I lifted the car with the tire jack, removed the heavy tire and replaced it with the little donut.
Finally, I had to tighten those lug nuts and, yes, standing and a jump or two on the tire iron helped.
I felt like a superwoman!
Mastering the mystery of the guinea pig
My son and I have a guinea pig named Andy. He's adorable like all guinea pigs are but he's smart too.
This little guy loves — I mean he really loves — kale. He could eat it forever, I suspect. Knowing he prefers this vegetable is fantastic, considering the necessary Vitamin C it contains for him to be healthy and happy.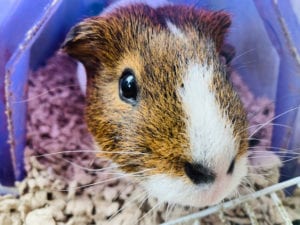 Initially, we would bring the kale to him without any solicitation on his part.
Eventually, he would hear the rustling of the bag as it opened and rush to the entrance of his cage awaiting his treat.
Soon, he realized that when we said, "Do you wanna treat?" that meant kale was on the way.
But it didn't stop there.
Now he's trained us!
When he wants a treat, he places his paws on the front entrance of his cage and looks at us. And looks at us. And looks at us.
We soon learned that this was his way of saying to us, "Gimme a treat. Seriously, get up and give me a treat."
And as you can imagine, we do.
The dark scares me
Ever since I was a little girl, I have been scared of the dark. It's creepy not knowing what — or who — could be lurking in it.
But I have a real reason for my fear.
When I was around 5 years old, I slept in a room with my little brother and baby sister. My brother and I had our own beds, and my sister slept in a crib within eyeshot of me.
The room had a peculiar characteristic, though, a door that led outside. I had always believed the door was locked until one night.
I remember waking up to a man standing over my sister's crib. He was not my father. He was some strange, tall man who appeared to be reaching for her!
I screamed out in fear, clutching my bedsheet. He turned to me then quickly fled the room through that very door, disappearing into the night.
The lights to the room turned on as my parents rushed in. I was crying as they tried to console me and eventually my brother and sister who woke up to my screams.
My parents assured me that I had a nightmare — and that was the story for years — but I never believed them. I knew in my heart what I saw.
Decades later I learned the truth about that night and that man.
My mother eventually told me that a man nearby had Alzheimer's disease and was known to roam around our city neighborhood at night. She suspected he must have wandered to our door and walked in the room, but he would never harm us.
Learning the truth has given some comfort in knowing I wasn't crazy, but I'm still scared of the dark. And yes, it's even possible a monster lives under my bed.
Shaved, short and long hairstyles
What is hair but to play with! And I have had some fun with mine over the years.
In high school, I was into punk so I shaved half of my head. My appearance was out of sync with the predominantly long hairstyles of my peers, but I was determined to look different. One parent even believed I had cancer and was undergoing chemo, definitely not the look I was going for.
When I entered college and my professional career, I decided to go with a short style, a pixie look. It was cute and easy to maintain but limited. There was only so much styling I could do.
In my thirties, I mixed things up a bit with the long in the front, short in the back look. That style was limiting as well and eventually, I became bored with it.
For so many years, I cut my hair short mainly out of frustration over something or someone in my life. I guess it was my way of making a fresh start, cutting away that which angered, annoyed and saddened me.
However, I knew these haircuts were purely symbolic and I wasn't actually achieving anything. The problems persisted and needed to confront them and grow.
So I decided to grow out my hair. Over the past five years or so, my hair has been shoulder-length or longer and I actually enjoy the versatility it provides. It gets put into a ponytail, clipped in the back or wrapped in a bun. I can blow dry it straight or let it air-dry curly.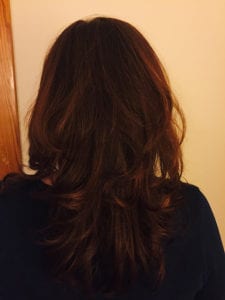 My hair has been with me through many ups and downs during these recent years. It serves as a reminder of where I have been and what I have accomplished and hope to achieve.
And yet my hair surprises me with how it chooses to appear without me fussing with it.
It's so strange what my hair has taught me. I've learned tenacity, strength and hope, all from a simple commitment to be and live with myself in the moment rather than cut myself off from it.
Grammatical errors? Ugh!
Everyone has pet peeves and mine is bad grammar. I can stand it! It's like nails on the chalkboard of my mind.
As a news editor, I thrilled at catching grammatical mistakes and correcting them. Knowing that a story I edited was going into a newspaper or online without those errors was wonderful!
Being attentive to these mishaps can be maddening. I can't seem to turn it off. I see mistakes in menus, articles, road signs and advertisements, to name just a few!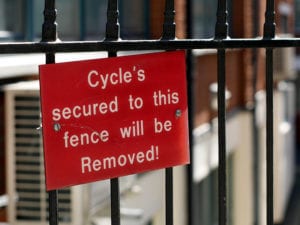 Would I love to fix them? You bet! But who has time for that? I have columns to write — without grammatical errors.
Tattoos
My body is a blank canvas. I would love to get a tattoo and have often thought about it, but I'm not ready to commit to it.
Several of my friends have tattoos marking times in their life or aspects of their personality. I love their reasons and enjoy hearing their explanations for the designs they selected.
For now, I'll just think about a tattoo and work on my inner canvas.
I hope you enjoyed this column!
Over the past year, I have met some wonderful bloggers, who have expanded my perspective and enriched my life! Take a moment and check them out!
And, if you love YouTube, check out Devina Kaur.
On Thursdays, I share a blog about a day in the actual life of a single parent. Every fourth Thursday, instead of a personal post, I put together one where I assemble news on and about single parents nationally and globally.
I would love to hear from you! Feel free to send any comments and questions to me at singleparentandstrong@gmail.com. I am also on Twitter @parentsonurown and can be found by searching #singleparentandstrong.