My journey of being a single parent has been fraught with many challenges. Each decision rests on my shoulders. Each word carries great weight.
However, as my son has gotten older, we have been facing this journey together. The decisions start with discussions. The words come from both of us. During a recent hike, we learned how important we are to each other.
Joseph and I decided to hike on one of the trails at Gunpowder Falls State Park in Baltimore County, MD. After perusing a hiking guide, I zeroed in on the Bunker Hill trail that was 3 and 1/2 miles long and projected to take about two hours to complete.
In the past, I had taken us on excursions that turned out to be more taxing than we had anticipated. A trip on the rail trail a couple of blocks from our home was one of them.
We cycled on the trail one winter afternoon, traveling nearly 10 miles one way easily. When we decided we had gone far enough, we thought the return trip would be equally easy.
However, we were mistaken. We quickly discovered that the trail had a slight incline, making it a difficult and slow ride. Naturally, my son has been hesitant to join me on outings ever since.
We are on our way … somewhere
This time I had a route, one that was marked and suggested by the guide as a great one for novice hikers. Joseph reviewed the entry in the book and agreed to join me.
We found the park entrance and drove down a road filled with deep ruts. After parking, I put the knapsack filled with water bottles on my back and looked for the blue marking on a tree for the trail. We saw only a paved road and so we ventured forth.
The path led us through the cool woods, a wonderful departure from the summer heat. At one point we reached a river, which was on the map, but we did not see any blue marks on any trees near it that would indicate it was connected to the trail.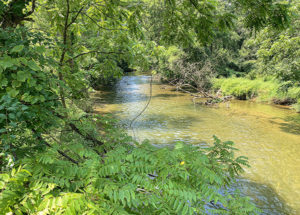 As we tried to figure out our next move, we met three hikers who told us about some campsites they had passed along the way.
After they walked off, we saw the path from which they came and decided to take it even though it was not on the Bunker Hill trail. We knew we wouldn't get lost; we could always turn around.
The path took us along the river and eventually brought us to the campsites.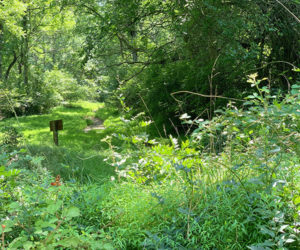 Open spaces were created in the forest where we imagined tents were erected and fires were created for cookouts and s'mores. Short paths to the river suggested fishing must have taken place there as well.
But where was the blue trail? We couldn't find markings anywhere, and so in frustration, we followed the path back to the road and began walking to the parking lot.
Along the way, we discovered a path off the road we hadn't noticed the first time. We didn't see any blue markings on nearby trees, but we decided to take a chance and see where it went.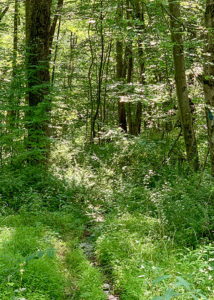 At first, the trail seemed promising. We passed fallen trees in interesting geometric arrangements and lush foliage.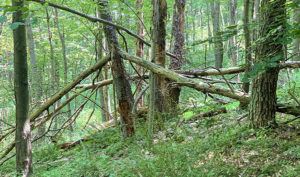 Eventually, the path met up with the river we had encountered earlier, but it became more treacherous. The muddy ground made the ever-narrowing path more difficult to navigate.
Joseph, fortunately, discovered a path leading away from the river. We trudged upward, traversing a staircase of sorts constructed from exposed tree roots and earth. When we reached the top of the hill, we arrived at the parking lot and a blue mark near a sign announcing the trail.
We finally arrive at our trail
We were bewildered. The trail we sought was where we started all along?
We were sweating from the heat and debated whether to continue. After a water break, I convinced Joseph that we should leave the parking lot to see if the trail picked up there — and it did.
Only an hour had passed, so we decided to hike it.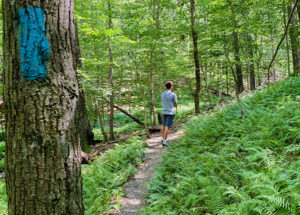 The twists and turns and ups and downs of the well-maintained trail presented the physical challenge we had intended to experience. Along the way, we enjoyed the natural beauty and avoided the hidden perils.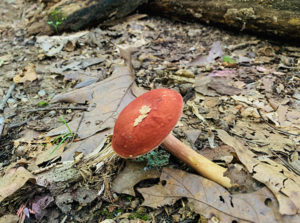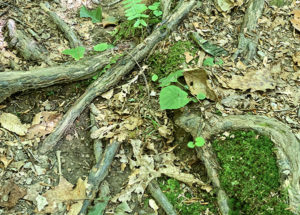 We eventually walked out of the forest and onto the road we had driven to reach the park. At that point, we decided to take it back to the parking lot. We were both pouring with sweat and getting tired.
On the roadside, Joseph found some small red berries. He gingerly plucked them from the bushes and popped them in his mouth — and so did I. Maybe it wasn't the smartest decision, but they were delicious!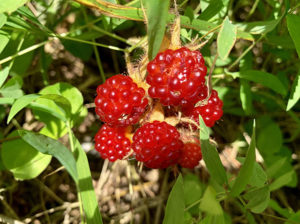 A small cul-de-sac off the road brought us to a huge tree with purple and white flowers. When we got closer, we found butterflies fluttering about, alighting on the flowers and enjoying their nectar.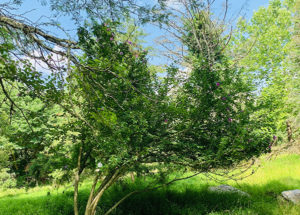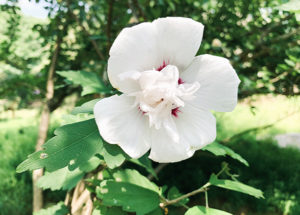 When we finally reached our car, we discussed our hiking experience. We took paths with outcomes unknown to us while enjoying the beauty and confronting hazards nature presented. And we did it together — and because of each other.
On Thursdays, I share a blog about a day in the actual life of a single parent. Every fourth Thursday, instead of a personal post, I put together one where I assemble news on and about single parents nationally and globally.
I would love to hear from you! Feel free to send any comments and questions to me at singleparentandstrong@gmail.com. I am also on Twitter @parentsonurown and can be found by searching #singleparentandstrong.