My son's decision to return to in-school instruction during the COVID-19 pandemic depended on the achievement of his two goals: my vaccination and his grandparents' vaccination.
Joseph's refusal to attend in-school classes was rooted in his fear that he could transmit the coronavirus unknowingly as an asymptomatic carrier. His grandparents, my boyfriend and I shared his trepidation and stressed over his health, physical safety and quality of education, as well.
However, his situation changed when I was fully vaccinated at the end of March and my parents each received their first doses in the beginning of April (Lewis was fully vaccinated in the beginning of March). With both objectives met, Joseph swapped his study at home for his classrooms at school.
During the coronavirus pandemic, Joseph has exercised an empathy and self-awareness beyond his years, considering the safety and well-being of others in all of his actions. I had drilled into Joseph the importance of wearing a mask — over the nose and mouth — and social distancing, among other safety measures, and he has adhered to these protocols religiously. I was confident in his judgment and I knew his chances of contracting COVID-19 were not as high. I had to believe he would be safe returning to high school now with the surge in vaccinations.
But I was scared and every day he walked through the door, I gave him a huge hug — and then peppered him with questions: Are the other students wearing masks? Do you feel safe? Are the teachers making sure the kids are wearing their masks properly?
In my son's own words
As a parent, I was hungry for my son's interpretation of his new normal. I was tired of listening to politicians, pundits and parents speak for children, so I asked him to write about what he thought about returning to in-person instruction and his reasons for being a remote learner. Following is his perspective in his own words:
"As of writing this column, I have been in school for a little more than a week. I have begun falling into the rhythm of waking up at 6 a.m. again, leaving a warm bed to put on cold clothes within a cold room to get in a cold car on the way to school. Although this routine might be considered redundant, mundane and the epitome of why most people want the world to end, I have formed a different opinion about it. I was not eager to return to the school building; in fact, I had quite a great deal of aversion to the idea.

"I was understandably afraid of going back to in-school learning. I had delayed my return for more than 12 months so I could protect my family. I was terrified of bringing the virus back to my grandparents whom it might seriously endanger or even kill, and as I am not a gambler, I did not take any risks.

"As a student learning remotely, I put up with terrible and blurry virtual notes, the inability to meaningfully participate and countless technological issues. I am now entirely confident artificial intelligence will never conquer the world. Also, I will certainly not forget to include the separation from my friends whom I hold in such high regard. A few days before my return, however, my grandparents had just received the first dose of their vaccines, which made them less susceptible, and my mom was fully vaccinated by that time.

"Based on all of these factors, it would seem like nothing would or should hold me back from returning to in-school instruction. If my family is finally protected and my goal accomplished, what is keeping me in the prison cell I have come to call my study? Honestly, it was nothing more than that I had become accustomed to virtual life.

"Rolling out of bed at 8:10 a.m. and still being on time for school?

"Eating hot meals?

"Watching television at lunch and during study halls?

"Hell yeah! It had its benefits!

"I also was not in any rush to be the new kid in school; I certainly felt that way on my first day back even though I had been enrolled there for five years. A new face always has more attention paid to it than an old one, and the less focus on me the better.

"I also would still be unable to socialize on my bus, which was a shame. I have a good few friends there, and talking to them used to make my day.

"It had crossed my mind that I would be better off if I simply did not return, but my decision to go back after my family was vaccinated was more important to me than complying with my panic, so I went. Also, my grandmother could go shopping when she came to pick me up from school, so at least she would benefit from it.

"On my first day back, I did not have too many reasons to regret my decision. I could finally interact with my teachers and take proper notes in class, unabated by distractions and other tasks that are abundant at home. I could finally make my class clown jokes and distinguish myself by being a lousy know-it-all, and I had a good few laughs with the people I was friends with. Even though my schooling was much easier and more enjoyable, nothing in this world comes without a few complications. I saw a few things I did not like, which made me slightly scornful of my peers.

"With the presence of others comes their noise alongside. I saw a revival of old dramas and the birth of new ones and was surprised that my time as a remote learner had been long enough for me to forget about these annoyances. I also could not rely on my separation from people to be a defense any longer; if I had a score to settle with them based on something that happened when we were virtual, then it had to be solved now that I was back.

"Oddly, I felt that I had become colder than I was when I left more than 12 months ago. I was more secluded, almost as if my virtual stent had made me more of an introvert. I felt entirely sick and tired of other people after my first day, much more than I had ever felt before the COVID-19 pandemic. With every face I saw, I had to repeat why I was glad to be back, and I would have much preferred just being on my way.

"Perhaps disliking the presence of people I don't know is a good thing though, for I saw that most people in my school were too dense to adhere to the basics of social distancing. Some of them couldn't even comprehend that the mask is meant to go over both the mouth and nose, not one or neither. It is rather frustrating to see the poor decisions of my peers, especially when their foolishness can hurt others as well as myself. I kept a good 6-foot distance as often as I could, but it is hard to maintain that when no one else is trying. Teachers yelling at students to keep their distance was a common occurrence, and I will certainly admit that I got relaxed enough to slip on the distancing a few times.

"For me, the mask itself is rather important; it is now a permanent article of clothing, after all. On my first day back during which I wore the thickest mask I had, I did feel a minor difficulty breathing, especially as I carried a heavy backpack up flights of stairs. I am certainly not aligning myself with the Muppets of the internet, however, who feel like the masks are suffocating them. It just takes a tad bit more effort to draw a breath through layers of fabric rather than nothing but air itself, but after a day or two, I was used to it.

"One thing I did not so readily become used to, however, was the constant downward slide my mask tended to take. I could hardly say anything before it would start to slip, and this was rather frustrating. The mask would also, as it did its job, collect every drop of spit and vapor that came with a day of speaking. It was a bit gross to have all that liquid on your face over the course of a day, but it was what it was.

"Despite my negative experiences and apprehensions, I decided to return to the physical building, because I enjoy the in-school experience. I enjoy having a guiding hand that reduces my temptation to not work; I'm a class clown and got to scratch my itch for making jokes every now and again; I have a greater ability to see the notes that are provided, and have since learned more; I no longer have to sit in front of a computer screen for seven hours and am free of the technical problems that come with that; I'm able to see my friends and hang out with those whom I had to leave behind when I was stuck in virtual.

"Each of you will likely feel differently about why you would or wouldn't want to come back. Perhaps, some of you have no choice in the matter. I only wish to let you know of what my experience was and why I made the decisions that I did. But still, if you can get back and be safe, I say get the hell outta the house. There may be reasons to fear the virus-spreading actions of your peers; however, everything else will end after the first week. Being back is so much better and you will learn that too in good time."
Joseph's insights moved me from his joy at cracking jokes as the class clown to his new awareness of the impact of his isolation as a remote learner. For the past several days, he has been finding his place in this new normal with his teachers, classmates and friends. The pandemic did not stop his growth as an individual; rather, it helped him appreciate and understand the world around him and his part in upholding the social contract.
Since even before his return to in-person instruction, Joseph was on a waitlist for the COVID-19 vaccine. Finally, it was his turn and he received his first dose on April 12, 2021!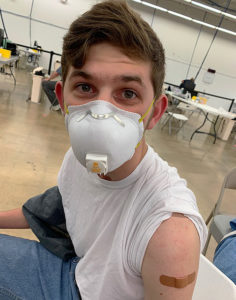 To know that Joseph is safer now gives me peace.
To know the quiet depth of my son's thoughtfulness and love gives me hope.
On Thursdays, I share a blog about a day in the actual life of a single parent. Every other Thursday, instead of a personal post, I put together one where I assemble news on and about single parents nationally and globally.
I would love to hear from you! Feel free to send any comments and questions to me at singleparentandstrong@gmail.com. I am also on Twitter @parentsonurown and on Facebook.