Because of where I live with my son as a single parent, I have to drive everywhere.
I would have preferred to live in an urban or suburban area with public transportation, but I could not afford the houses there.
Their prices exceeded my humble budget anywhere between $50,000 and $200,000.
And some of the neighborhoods were unsafe.
The cost of having such an investment forced me to reconsider my proximity to these population centers.
Small town living
Instead, I reside in a small rural borough in Pennsylvania that doesn't even have a traffic light. Its population is less than 5,000 and its size is two square miles.
My house sits on a quiet street with little traffic and several aloof neighbors.
Beyond the border of the incorporated borough are acres and acres and acres of farmland; an occasional cluster of trees breaks the sprawl of earth cultivated for generations.
Fortunately, the few amenities within the borough — a gas station, pizzeria, bank, ice cream shop, rail trail and fire and police departments — are all within walking distance of my home.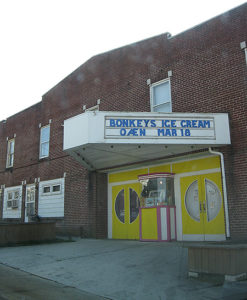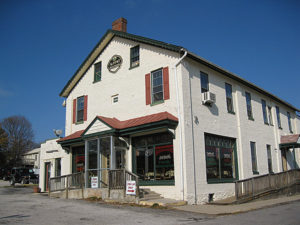 However, my responsibilities and needs take me well beyond the borders of what I refer to as a bedroom community. The closest grocery store is 15 minutes away. My son's school is 30 minutes away. The nearest mall is about 45 minutes away. In the urban and suburban Maryland where I lived for nearly 40 years, everything I needed was a quick drive from my house, but not anymore.
Three-county commute
The most challenging of these road trips, by far, has been the commute to my current job. That journey has tested my endurance, self-reliance and even my courage.
The small business where I work takes me to a town that requires me to traverse three counties — one way.
And the distance? More than 65 miles — one way.
This nearly two-hour journey involves motoring on an interstate, three state routes and several winding country roads — one way.
Build up and come down
Always resourceful, I use this time to my advantage.
I mentally and emotionally prepare for the work ahead and come down from the stress of the day.
I listen to my news programs and reflect on whatever thoughts and feelings I have at that time. And I try to adjust my position in the seat to alleviate the pain — more like a throbbing pinch — in my right leg.
At least the driving affords me some alone time.
Tractor-trailer terror
The interstate and state routes — all of which are two lanes going one way — pose dangers that I have simply grown accustomed to.
Large, tall trucks with one and sometimes two trailers tower above my little Chevy Sonic.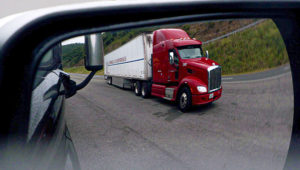 They mainly occupy the right lane with the slower traffic. When they shift to the left lane, faster traffic must submit to the truckers' reduced speed as the truck passes an even slower vehicle, an aggravation indeed but not a threat to anyone's safety.
The peril comes with the accidents involving these diesel behemoths.
Strong winds or unexpected movements and stops can cause this lumbering beast to wobble, topple or jackknife. Smaller vehicles are crushed, crumpled or smashed. Cargo is scattered about or gushing forth. People are left injured or dead.
I have crawled passed so many of these crashes while moving with the flow of traffic. And so many times I have thought that could have been me in that vehicle.
What would my son do if I was hurt or killed?
Stranger in a strange land
Large swaths of the routes and country roads I travel are desolate or sparsely populated.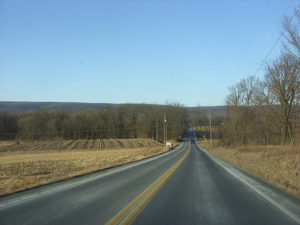 Signs point to towns tucked miles away. An occasional house, tractor or barn dots the landscape. Farms stretch to points unseen. Trees line the road, creating a barrier between them and me. People and animals live there, but I rarely see them. I am only allowed to see the results of their labor.
Driving at night exacerbates this remoteness, and I am reminded of how vulnerable I am.
When the moon is absent or not at its full brilliance, a velvety deep darkness seems to envelop the land. Lights from vehicles, buildings and signals perforate the night, but they lack the strength to compete against the overwhelming darkness. Eventually, the night seals these openings with its blackness as I drive away into the unknown.
It is this unknown that terrifies me, a single mom with a son anxiously watching the clock until her return, a daughter with parents waiting for the call that tells them I am finally home.
Travel smart
Always resourceful, I use technology to my advantage. I have the best cellphone plan I can afford so I have access to as many cell towers as possible.
My phone has a GPS app that takes me on some wild excursions but always gets me to my destination.
I have a cellphone charger in my car to keep my phone juiced up and ready to go at all times.
Before I leave from work, I call my son to let him know I am on my way home. Fifteen minutes before I arrive, I give him a second buzz. The final call comes when I park my car at the house, at which point he gathers his belongings and walks down the block to our house from my parent's home.
My phone ensures I am never out of reach even though I am several miles away.
In spite of these many reservations, driving is an integral part of my life that I cannot avoid or deny. Wishing for different circumstances only aggravates me. Such wishing is for a child. My decision to live in the exurbs has consequences. As a woman and a single mother, I have to confront my fears and rely on my common sense on these long road trips. I do so, because I must.
On Thursdays, I will be sharing a blog about a day in the actual life of a single parent. Every fourth Thursday, instead of a personal post, I will put together one where I assemble news on and about single parents nationally and globally.
I would love to hear from you! Feel free to send any comments and questions to me at singleparentandstrong@gmail.com. I am also on Twitter @parentsonurown and can be found by searching #singleparentandstrong.