Single parents may be overlooked, derided and discriminated against, but many of us are amazing contributors to our communities.
In this occasional series, I will be highlighting their accomplishments, big and small, to reveal that single parents are incredible individuals with amazing superpowers.
Below are single parents among whose accomplishments include her sprint for her son's swimming success, her achievements in boxing and mixed martial arts, his teddy bear companion for sick children and his fight to adopt:
VJ Shantymo

Her superpower? Unstoppable athlete.
Shantymol recognized the promise of her son, Sajan Prakash, in swimming when he was 3 years old, but advancing his career in India required an understanding and commitment only she possessed.
She sacrificed time away from her son at her many jobs in order to pay for his training and additional expenses in a sport reserved for the wealthy. Her work often took her miles — and even days — away from him. She described having to bring flashlights with her on the bus she took to one of her jobs, so she could help change the bus' flat tires caused by potholes in the roads to ensure it arrived on time.
Her appreciation for her son's talent and ambition was not foreign to her. Shantymol was an accomplished athlete in her own right, having raced in the 100-meter and 200-meter sprints at the 1987 World and Asian Juniors.
She made sure to provide him access to every possible opportunity to succeed in swimming and traveled to his competitions, offering guidance and a home-cooked meal.
Shantymol's determination and loving support inspired Prakash to achieve victory in India's National Games in 2015, winning six gold and three silver medals.
"What my mother taught me was the attitude. It's what you think in your mind. It's what you prioritize," Prakash said in an article published by The Indian Press.
Shantymol lives in India with her son.
Kayla Harrison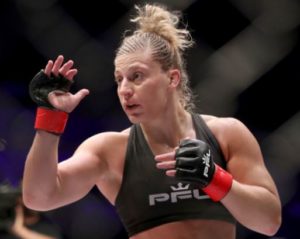 Her superpower? Champion fighter.
Harrison has always been a fighter, never backpedaling from a challenge. A mixed martial artist, she was also a two-time judo Olympic gold medalist and winner of the Professional Fighter's League in 2019 in the lightweight division.
But her life took a life-changing blow when her mother had a stroke and her stepfather died months later. Without her sister to parent her two children, Harrison became a single mother overnight to her niece and nephew.
"I didn't know how empty my life was, I guess, before I had the kids. I would wake up, I would train, I would eat, I would sleep, I would train, repeat. I would go to taco Tuesdays with my friends. I didn't really have a purpose outside of fighting. It's a very selfish thing that I do, to wake up and try and beat someone for a lot of money. Having the kids has given me a new sense of purpose," said Harrison in an article published by NBC24.com.
This new purpose came at the best time for Harrison, whose career in mixed martial arts and boxing is nearing an end, compelling her to explore other opportunities.
For now, she looks forward to raising her niece and nephew in abundance and joy as their guardian.
Harrison lives in Massachusetts with them.
Lucy Amsbaugh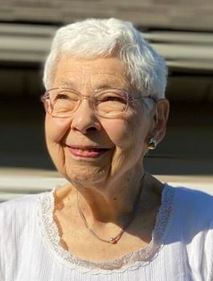 Her superpower? Nurturer of all living.
Amsbaugh wanted only to heal and nurture, but these simple desires resulted in a bittersweet life filled with death and life. After she graduated with her nursing degree, she experienced her first tragedy, the death of her first husband.
However, in her determination to have a family of her own, she decided to pursue adoption, unheard of for single women to achieve in the 1960s. Years of paperwork, background checks and waiting paid off when she became the first single woman in the county to be approved to adopt her first son, Michael, and eventually her second son, Nick.
Her little family expanded again when she married her second husband. Sadly, he passed away a few years later.
So many unexpected changes in her life, particularly her two sons, led Amsbaugh to describe her life as a carousel.
"There's ups and downs, but there's always that magnificent music," she said in an article published by richlandsource.com.
Amsbaugh lives in Mansfield, OH, where she recently celebrated her 90th birthday.
Ian "H" Watkins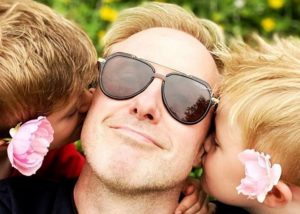 His superpower? Singing and juggling.
Watkins, a member of the reunited pop band Steps, decided after he and his partner separated that he wanted to be a single father.
Using a surrogate, the Welsh singer became a father to twin boys Macsen and Cybi, who are 5 years of age.
Watkins, who plans to go on tour with his band later this year, has experienced the craziness of being a single parent, compounded by the pandemic, its confinement through quarantine and lockdown and home-schooling.
In particular, he describes feeling outnumbered in a society where single parents are in the minority.
"It's tough … There is no traditional family unit anymore. Families come in all shapes and sizes. … I have to divide my time and I have to devote attention to what's needed. I am a little bit of a, well, 90 percent, I'd say, I'm bad cop because I have to be, you know, I do rule my children with discipline, but I also put the fun dad hat on as well. So it's a juggling act, really," Watkins said in an article published by Sky News.
Watkins lives in Wales with his two sons.
Zoë Chapman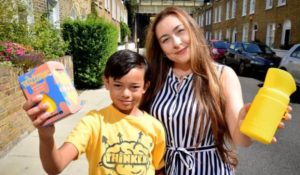 Her superpower? Whizzer inventor.
Chapman has known tremendous hardship, especially during her childhood, but from this suffering she emerged as an inventor, creating a product that has helped many children seeking relief.
Raised by her single father, Chapman endured poverty, homelessness and the eventual sickness and death of a man she cared for her during his paralysis. During her father's sickness, he had to care for her young son, Mayson, as a single mother.
Potty training became an immediate issue not only for her son but her father.
Her search for a solution was fruitless, so she decided to invent the Whizzer, a unisex handheld potty to collect urine. The 250-milliliter product is made of silicone and has detachable parts.
Chapman hopes the Whizzer can help children with medical difficulties as well as support her family.
"To be honest, it's quite crazy that I'm actually even alive, let alone doing anything else, after everything. But hopefully, it's all going to pay off now, and after these decades of terrible things happening, I'm going to have some good luck soon," Chapman said in an article published by Ham&High.
She lives in Camden Town in the United Kingdom with her 9-year-old son, Mayson.
Nick Hardman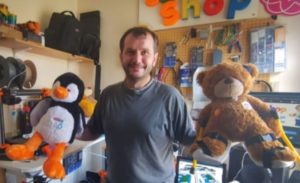 His superpower? Toymaker with heart.
Hardman's professional experience in automation has helped him respond in a unique way to the needs of children who wear medical devices.
He began using his 3D printer to create personal protective equipment for hospitals when supplies were short during the coronavirus pandemic.
Eventually, a parent contacted him about creating an accessible toy — involving a shunt valve — for their child with hydrocephalus, a medical condition that requires this device to drain excess fluid from the brain.
He printed the valve and decided to affix it to a teddy bear, creating a much-needed comfort toy during a difficult time for the child.
The pairing of this stuffed animal with a medical device went viral and tens of thousands of people contacted Hardman with requests for similar teddy bears with various devices from a cochlear implant to a foot splint to a bear with Braille dominoes for a girl learning Braille.
Hardman has been stunned at the response and his growing understanding of the struggles of children who are ill.
"My eyes have really been opened to how many children out there are going through something really difficult and don't understand why they are having to wear a medical contraption that makes them look different to their friends. Now they can have a teddy who looks just like them and they aren't so alone," he said in an article published by iNews.
Hardman lives in Leeds in the United Kingdom with his two children.
John Hennigan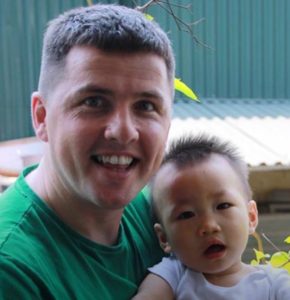 His superpower? Adopter overcoming hurdles.
Hennigan has always wanted to be a father, but he could never have imagined he would be the first single man to adopt a child in Vietnam.
Originally from Ireland, he worked for five years as head of EL (English as an additional language) in the British Vietnamese international school in Hanoi when he decided to adopt.
Hennigan faced several hurdles as he engaged the domestic adoption process as a foreigner, including Vietnam's collaboration with the potential adoptive parent's home country and specific paperwork — but he persevered
The process led him to an orphanage in Vietnam where he met Liam, who was likely abandoned. There, he slowly cultivated a bond with the baby who would become his son.
With the adoption finalized, Hennigan hopes his story inspires others.
"Just because you're not part of a couple, or married, doesn't mean having a family is impossible. I think Vietnam is changing, as is Ireland, becoming more progressive, but it's slow. I feel very lucky and blessed," he said in an article published by Extra.ie.
Hennigan lives in Vietnam with his son and plans to adopt another child.
Cheng Lei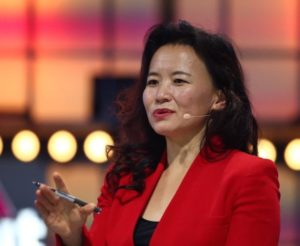 Her superpower? Journalist on the front line.
Lei has been detained in China for more than a year "suspicion of illegally supplying state secrets overseas," according to ifex.
When she was arrested, Lei was a news anchor for the state-owned, English-language television news channel China Global Television Network. The Australian citizen had worked for this organization for eight years, all evidence of which was removed from the network after her arrest, according to reports.
She has been held at an undisclosed location and no court dates have been announced in her case.
Several media organizations have been pushing for her release, speaking to the injustice of her situation.
"Cheng Lei's yearlong detention is an assault on journalism and on human rights. Cheng is a single mother of two. Her children have been living with their grandmother in Australia without knowing if they will ever be reunited with their mother," according to a statement by National Press Club President Lisa Nicole Matthews and National Press Club Journalism Institute President Angela Greiling Keane published in a PRNewswire release.
Lei is among several journalists being detained in China as it cracks down on press freedom.
If convicted of security violations, she could face years in prison.
If you know of a single parent with superpowers, please email at singleparentandstrong@gmail.com.
On Thursdays, I share a blog about a day in the actual life of a single parent.
Starting the summer of 2021, my son, Joseph, is writing a monthly column titled In My Son's Words where he describes his experiences as a teenager and as a child of a single parent.
Twice a month, instead of a personal post, I put together one where I assemble news on and about single parents nationally and globally.
I would love to hear from you! Feel free to send any comments and questions to me at singleparentandstrong@gmail.com. I am also on Twitter @parentsonurown and on Facebook.