My son and I simply adore the beach, but the expenses associated with such a trip — food, lodging, entertainment — have made it cost-prohibitive most years.
This year, we were oddly optimistic, banking on the pandemic to drive away large crowds and drive down inflated prices.
We had budgeted enough money for a one-night stay at a small hotel in uptown Ocean City, MD, a modest getaway in mid-September.
Our last trip to the Eastern Shore was a couple of years ago, and we were eager to return to the crashing waves, the sand everywhere and the salty smell.
Little did we know what awaited us.
Shivery weather
Ocean City has traditionally been popular among beachgoers well into September with temperatures in and out of the water averaging in the mid- to high-70s (Fahrenheit).
We looked forward to the promise of this warm weather and most assuredly its sunny skies and light breezes as we drove from our home in Pennsylvania — three hours inland — leaving behind its cloudy skies and chilly temperature.
But the weather did not improve. Heavy, grey clouds — more substantial and menacing than those at home — blocked the warming rays of the sun, causing the temperature to drop nearly 20 degrees below normal for the entire weekend.
Harsh wind
We could have handled the cold temperature if it were not for the wind, that relentless wind. All day, every day, it blew and howled with a certain fervor that left us wondering out loud if this wind was trying to tell us we were not wanted here.
Its ferocity did indeed make our trip intolerable, particularly on the beach.
After we checked into our room, Joseph and I put on our jackets, grabbed our towels and beach chairs, and walked the block to the beach. Even though we were determined to visit the shore that weekend, we were clearly in the minority. Very, very few people could be seen on the actual beach.
They were walking, jogging or standing near where the waves were crashing on the shore, plundering with greater intensity that day, but no one was sitting on chairs or blankets further back.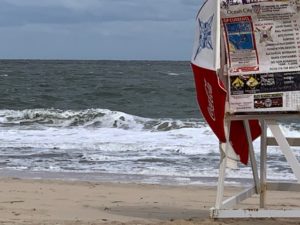 We quickly realized why. The wind, that cruel wind, upset any effort to place a blanket or chair on the sand. And it cleverly weaponized any loose grains, whisking them into a fever pitch and hurling them violently to lash at any exposed skin.
Joseph and I were frustrated until we noticed the small huts where beach chairs and umbrellas are stored near the dunes. We planted our chairs next to one, using it to block the wind.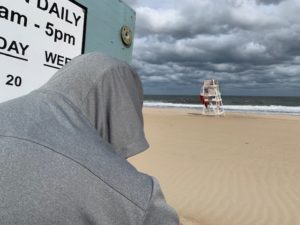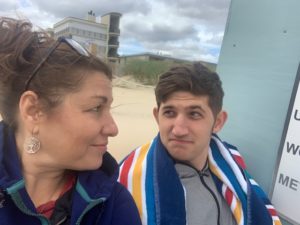 For the most part, our tactic worked. We huddled under our blankets and towels and watched the sand slowly cover our feet. Unfortunately, the cold and wind bested us, and we packed up and pursued other plans.
Bike Week
When we arrived in Ocean City, Joseph and I were not expecting a large number of people; most people were staying home to minimize contact during the pandemic — and I'm certain the unseasonably cool weather was an added deterrent.
We did notice quite a few bikers in our hotel parking lot and even more riding in the light traffic on Coastal Highway and then realized that our trip coincided with Bike Week, which occurs annually in mid-September with Ocean City BikeFest.
Ocean City officials decided to cancel the event this year, but that decision did not discourage some bikers with their family and friends to visit and support the community and its businesses.
The woman working at the hotel's front desk commented on how the bikers made her feel safe; I was just happy to see people enjoying themselves while wearing masks and social distancing in spite of the coronavirus and contemptuous weather.
Long walks
Joseph and I are admitted walkers, he more so than I, and Ocean City has been the ideal location for us to enjoy two- to three-hour walks. (Yes, our walks do last that long in the evening or during the day!)
The city's arterial highway is flat with endless stores, restaurants and houses to catch our attention, and the beach is easy to travail, all at a leisurely pace.
During this trip, however, the weather prevented us from taking a very long walk, but we did manage a short one.
Because of the wind, we decided against walking on the beach and took to the streets, so to speak.
The weather had warmed up a bit and I was determined to wear my flip-flops — if it killed me.
Those who wear these rubber sandals with their assorted colors and thicknesses know that they can come off easily and do not make the best walking shoes, but that day, I didn't care.
I should have, though.
Joseph and I were crossing the street into a shopping center. Near the entrance was a patch of grass. Somehow, one of my flip-flops fell off and my foot landed in the grass. But it wasn't grass; it was actually a cluster of thorns — and they hurt!
I hopped as best I could to the curb and carefully pulled those little buggers out of my foot.
Joseph couldn't help but laugh. I had strut with such confidence in my flip-flops that day only to experience this unpleasantness. He was right; I should have worn sneakers.
Ice cream to die for
A few years ago, my aunt and uncle visited Joseph and me at the house we rented for a week at Ocean City.
My son was not a big ice cream eater at the time, but my aunt, uncle and I were.
One evening, they suggested going to Dumser's Dairyland in Uptown and buying some ice cream. As a child, my aunt would patronize this restaurant with her family and she recalled how delicious its ice cream was.
Joseph was persuaded and my aunt and uncle left for Dumser's and we waited … and waited … and waited.
Finally, a couple of hours later, they returned with ice creams in hand and an account of the very long line at the restaurant, owing to its popularity. As promised, the ice cream was delicious and the wait was worth it, but most importantly, Joseph fell in love with ice cream for the first time!
Fast forward to this past September and Joseph and I were literally across the street from Dumser's Dairyland, the very one in Uptown where my aunt and uncle waited those couple hours.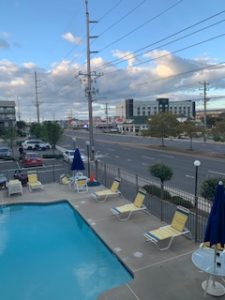 After dinner, we decided to treat ourselves to a Dumser's ice cream. With so few people in Ocean City, we assumed the line would not be that long.
Of course, we were wrong — again.
Teenage girls
The evening may have brought colder temperatures, but that, in no way, prevented fans from gathering outside. The line was long and the service, slow.
In front of Joseph and me in line was a small group of teenage girls bundled in sweatshirts with hoods. As they conversed, their eyes occasionally scanned the people around them as they seemed to wonder whether they were being noticed — by anyone or everyone.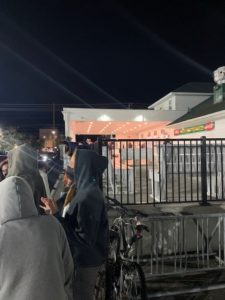 Eventually, their eyes looked up and saw Joseph, a handsome 16-year-old standing at more than 6 feet tall with a full head of hair. They smiled, looked away, turned again to see him, a few times, as they laughed and chatted.
I found the scene to be darling, but Joseph was irritated as we slowly crawled to the window where we finally placed our orders after nearly an hour in the cold.
With ice cream in hand, we returned to our hotel where I asked him why the girls seemed to irritate him. This answer could have gone one of two ways — as many a boy would confess — but it went this way:
"All that weird drama in that little group — this is why I don't date!"
At that moment, I realized that my son was growing up and that like ice cream, he would eventually warm up to girls when he found the right one. But for now, mint chocolate with chocolate syrup would suffice.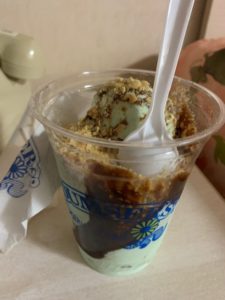 Sunrise
Staying up late and waking up early are synonymous for me now. So many nights, my sleep is restless and unsatisfying with only a few hours of catnapping; the average individual would be exhausted after a couple of nights of this type of insomnia, but not me. My energy seems to know no bounds, a blessing and a curse most days.
At the beach, my sleep pattern turned out to be a benefit for once. I was awake for the first actual sunrise I had seen in years.
I awoke from sleeping a couple of hours that morning and checked my cellphone for the time. It was around 6:30 a.m. and I thought that maybe I could actually see the sun rise. A quick check on my weather app and I discovered it was set to rise at 6:53 a.m.
Joseph had no interest, buried under blankets, warm and comfortable, so I pulled on my jacket, grabbed my cellphone and walked to the beach where I saw a few people standing near the water bundled up with coffees in hand waiting just like me.
And with every morning, the sun slowly rose above the horizon to herald the return of another day. It was beautiful and definitely worth enduring the morning chill in the air.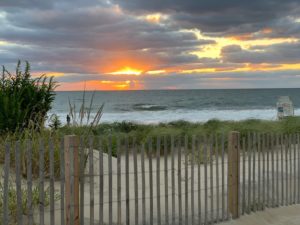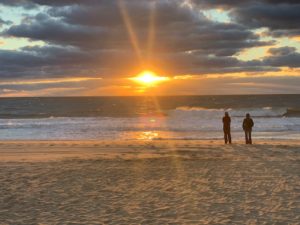 Our short trip to the ocean came to an end with our return trip home to Pennsylvania.
As we reflected on our getaway, Joseph and I were dismayed at how the weather and pandemic had suffocated so much of its potential, but we were thrilled to have even a small break from our daily existence of remote living.
The change in scenery gave us hope for the post-pandemic world that would await us next summer and all the changes in lives that would come.
And don't worry, dear reader, we have made plans.
On Thursdays, I share a blog about a day in the actual life of a single parent. Every other Thursday, instead of a personal post, I put together one where I assemble news on and about single parents nationally and globally.
I would love to hear from you! Feel free to send any comments and questions to me at singleparentandstrong@gmail.com. I am also on Twitter @parentsonurown and on Facebook.