While so many of us wore protective face masks during the COVID-19 pandemic, a funk festival was going full force in our mouths.
Nasty microorganisms were whooping it up in the bacterial buildup, creating a thriving community of yuck that could be wreaking havoc on our dental health. No social distancing required for these guys!
If you whiffed your stinky breath from under your mask, that foul stench was an obvious tip-off to the sinister microbiome growing — and mutating — in your mouth.
Our masks may have warded off the coronavirus, but they manufactured or exacerbated dental problems most people could never have anticipated.
Just another problem for single parents and their children!
Being a regular brusher and flosser didn't even protect me from some of the effects of what dental professionals refer to as "mask mouth."
What is mask mouth?
I was first introduced to this oral health issue recently by my dental hygienist while she scraped — and yanked — stubborn tartar off my lower teeth.
I expected somewhat of a buildup after delaying my regular biannual checkups because of the pandemic, but she was working in my mouth with her skinny, steel tool for longer than I expected.
After more than 10 minutes, I mumbled, "Is it really that bad? What's going on in there?"
"Well, you have a lot of tartar buildup. I've seen many, many patients with lots of buildup and other problems because of 'mask mouth,'" she said.
Wearing face masks, especially for health professionals, is not new, but the frequency with which they have been worn as a preventative measure for spreading COVID-19 is. And the shortage of these coverings meant people were wearing the same mask for longer periods of time rather than disposing of used, dirty ones for new, clean ones and putting them aside when not needed.
Combine these circumstances with periodic shutdowns and quarantines as well as the overall questionable dental health of U.S. citizens going into the pandemic and we have a seemingly ideal environment for this stinky syndrome to develop.
The U.S. Centers for Disease Control and Prevention have recommended wearing face masks to prevent the spread of "small respiratory droplets" that may contain the virus.
These droplets were getting trapped between our mask and our mouth, creating a moist, unpleasant environment where bacteria are being hoarded.
In the meantime, many mask wearers were experiencing dry mouth.
Huh?
Dry mouth or xerostomia occurs when people breathe through their mouth, rather than their nose, which decreases the amount of saliva. Unfortunately, many mask wearers tend to be mouth breathers.
The saliva secreted by the salivary glands contains proteins, minerals and antimicrobial agents that wash away food particles and help prevent periodontal issues. Without this liquid, an imbalance of bacteria occurs, allowing acid to set in and making our teeth and gums vulnerable to plaque, tartar, bad breath, cavities, tooth decay, gum disease and other dental problems.
This apparent dehydration has been worsened by people drinking less water while wearing their masks and consuming more coffee and alcoholic beverages during the pandemic.
And the first indication that people may be suffering from mask mouth is bad breath.
What is tartar? What does it do?
Without an adequate amount of saliva in the mouth, mask wearers have been susceptible to tartar buildup that quietly destroys teeth, gums and bones but to understand tartar, we must understand plaque, its precursor.
Plaque is a sticky film — colorless or pale yellow — of bacteria that creates a fuzzy film on the teeth that can develop under the gums and break down the bones that support the teeth.
This bacteria creates acids after it combines with food or fluids that contain carbohydrates, proteins and food byproducts. These acids can destroy tooth enamel and cause cavities and gingivitis also referred to as gum disease.
This plaque begins to take shape four to 12 hours after food or liquid is consumed. If plaque is not removed regularly through brushing and flossing or professional dental cleanings, minerals in the saliva combine with plaque and form crystals that harden or calcify into tartar, also known as dental calculus.
This rough, concrete-like deposit that can be yellow or brown in color affixes itself to teeth, above and below the gum line. Its porous nature allows it to trap stains from food and drink, even causing teeth to become discolored.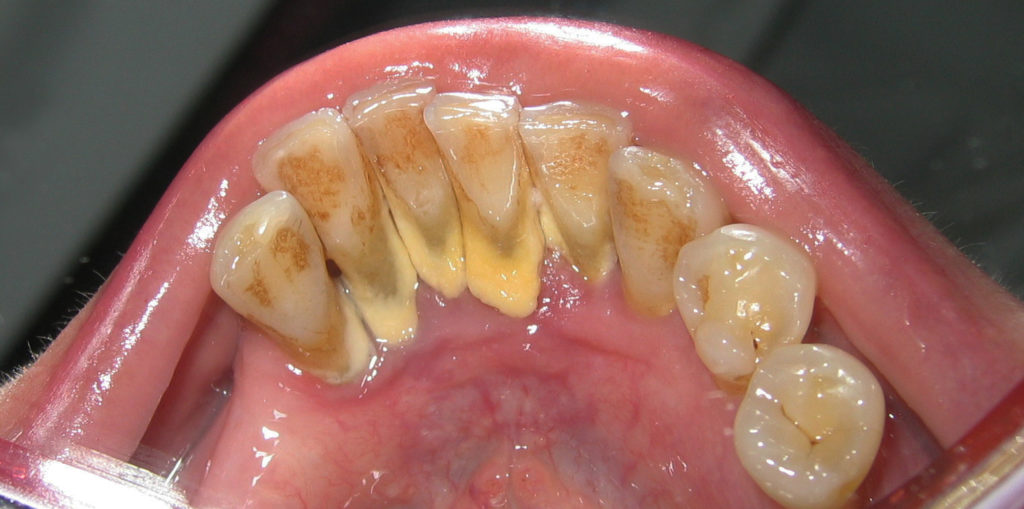 Many people don't realize that tartar contains living bacteria that can form between the gums and teeth and, eventually, if not removed, lead to progressive gum disease from gingivitis to periodontitis. Signs of gum irritation that may require medical attention include discoloration, pain, bleeding or tenderness.
Because tartar is rough, it cannot be removed with a toothbrush and floss; only a dental professional with their special tools can do so.
How can you prevent mask mouth?
The cumulative effect of mask mouth can be disastrous. Following are some tips that can help you and your children minimize its impact on your teeth, gums and breath:
Brush and floss your teeth more frequently daily.
Use an alcohol-free, antiseptic mouthwash before putting on a mask.
Scrape or brush your tongue to reduce the bacteria load.
Chew sugar-free gum to increase saliva creation.
Drink lots of water. Set a schedule for water consumption throughout the day if necessary.
Avoid alcohol, smoking, marijuana and vaping. They can cause dry mouth, gum inflammation, enamel damage, among other health concerns.
Avoid sugary foods and acidic drinks.
Cut back on caffeine.
Eat a balanced and nutritious diet.
Wash your reusable face masks daily.
Replace disposable masks as frequently as possible.
Don't wear a mask alone or alone in a vehicle.
Wear a mask if you must to socially distance or abide by business or municipal regulations. Otherwise, breathe freely.
Use a humidifier while sleeping to increase the ambient moisture.
Check your medications to determine if they cause dry mouth.
Breathe through your nose.
These pointers can help improve or stabilize your dental health during this pandemic.
As the United States rounds the corner of this historic pandemic, the importance of wearing a mask as an effective viral deterrent continues to gain momentum.
But we must pay attention to the impact these masks can have on our dental health and adopt healthy habits.
Carrying out our civic duty does not mean we must disregard our own dental well-being.
When the masks are down, we all want to share a beautiful smile.
Smiles never go out of style!
On Thursdays, I share a blog about a day in the actual life of a single parent. Every other Thursday, instead of a personal post, I put together one where I assemble news on and about single parents nationally and globally.
I would love to hear from you! Feel free to send any comments and questions to me at singleparentandstrong@gmail.com. I am also on Twitter @parentsonurown and on Facebook.