Single parents may be overlooked, derided and discriminated against, but many of us are amazing contributors to our communities.
In this occasional series, I will be highlighting their accomplishments, big and small, to reveal that single parents are incredible individuals with amazing superpowers.
Below are single parents whose accomplishments are her return to the ring as a boxer, his determination to father his conjoined twins in a foreign land, her entrepreneurial ambitions and her resolve to earn her bachelor's degree after years of laboring in the fields as child migrant worker: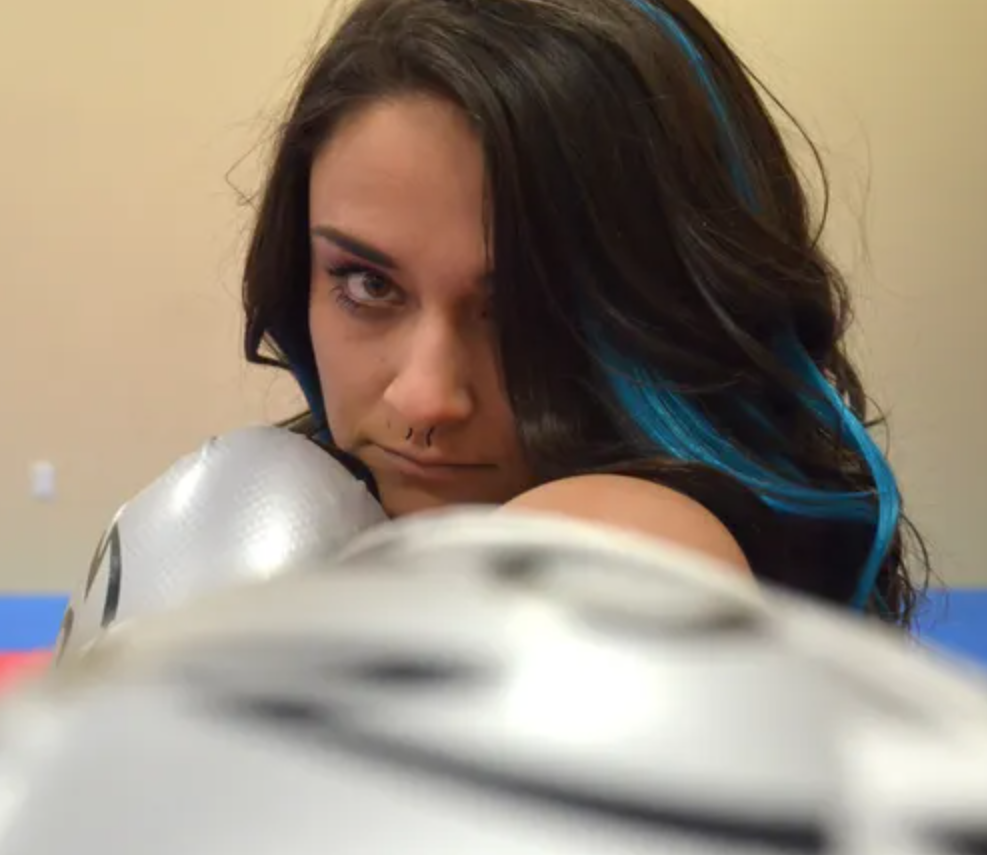 Her superpower? Fighting for a better life
For Angelenia Schneider, boxing helped her focus on her becoming her better self. Otherwise, her substance abuse and self-harm were leading her down a destructive path to suicide. Through hard work and determination, she became a Golden Gloves champion and Junior Olympian. However, her dream to become a professional boxer was derailed when she became pregnant with her two sons.
Now about eight years later, she is back to training for a real return to the sport, balancing her life as a single mother, boxing instructor and probation officer for sobriety court in Michigan. Schneider sees her daily workout demands, which begin at 4 a.m. with running and cardio followed by punching bag work and sparring, combined with her work and parenting responsibilities as motivational not just for herself but her sons:
"It is a whole different ballgame now. I have two kids, and I want to show them I am not doing this to be away from them. I am doing this to prove to them just because things happened doesn't mean you can give up on your dreams. My motivation is what is going to take me all the way," she said in a Holland Sentinel article.
Schneider's work as a probation officer also motivated her to return to the ring. There, she hears people's stories about how they became addicted to alcohol and drugs and how they are overcoming their addiction, a fight she understands. For her, boxing replaces her own addiction and self-harm, providing her with a way out to a more fulfilling life and a better appreciation for herself.
In November 2022, Schneider had her first match. She may not have won but she considers herself a winner and plans to focus on going to nationals.
Schneider lives with her two sons in Michigan.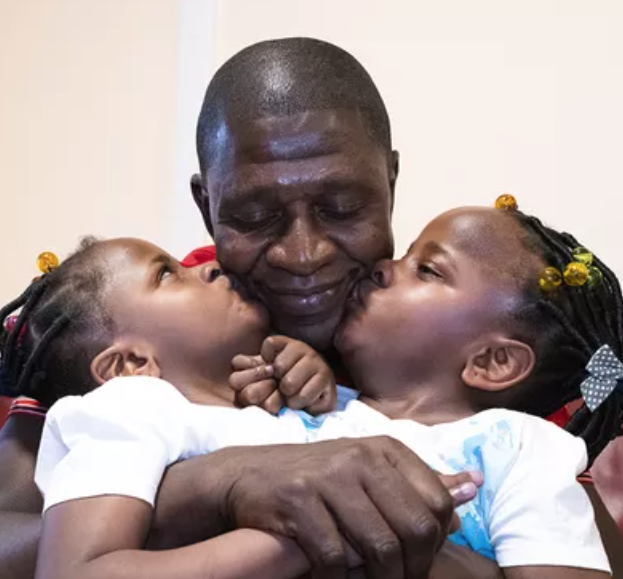 His superpower? Caring for conjoined twins
Ibrahima Ndiaye takes one hour at a time — not just one day at a time — as the single father of conjoined twin daughters Marieme and Ndeye. Senegal, Africa, native Ndiaye realized his life would never be the same when they were born in 2016.
Determined to help his daughters in any way possible, he began researching hospitals that had experience and expertise in separating conjoined twins, which comprise 1 out of an estimated 60,000 births. Marieme and Ndeye have their own heart and lungs but share a stomach, a liver, a bladder and a digestive system. To separate them under these circumstances would be extremely difficult.
Eventually, Ndiaye found a hospital in the UK that offered to see them and with financial assistance, he, his wife and the 7-month-old twins moved in 2017. Doctors discovered that Marieme would not survive such an operation because of her weak heart, but they encouraged the parents to move forward with the operation to save her sister. Ndiaye had this response:
"It was sacrificing one for the other, which in my moral, spiritual and parental point of view wasn't possible. I said, 'No,'" he said in People article.
As a result, his wife decided to return to Senegal, leaving him with the care and responsibility of their conjoined twin daughters. But Ndiaye decided to stay in the UK, learn the language and find a job so his daughters could have the health care they needed to survive and thrive.
And they are doing well! Marieme and Ndeye are attending pubic school in Cardiff, Wales, working at separate desks and playing with separate groups of friends. Marieme is turning out to be a quiet child unlike her social butterfly sister, Ndeye.
Their health condition has its challenges, though. The girls require supervision during the day and particularly at night so Ndeye doesn't roll over and accidentally suffocate her smaller sister. When their night caregivers are not at home, Ndiaye rotates the girls every hour throughout their sleep.
Ndiaye finds the future overwhelming, but he is blessed to be part of his daughter's journey wherever it may take them.
Ndiaye lives with his daughters in Cardiff, Wales.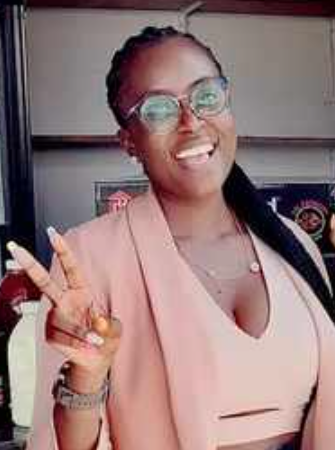 Her superpower? Building a business empire
Fifi Ndaba wanted the freedom to be her own boss and raise her son. Unfortunately, a regular job would not afford her the flexibility she needed and wanted to live a full life, so she decided to start a business, which led to two and a foundation.
She explained her reasons for going into business for herself:
"The reason I started my business was that I wanted freedom. I wanted to be flexible. I do appreciate the experience I garnered working a corporate job. It is crucial; you need the exposure. I make time for my son because I have so much freedom. So I'm able to move my meetings so that I make time for him. I delegate duties because I can't do everything by myself, so I can have time for myself," she said in an Independent Online article.
First, as an accountant, she felt confident enough to start her own accounting firm, Fifi Ndaba, in 2015 in South Africa. Her clients included a Ten Flags theme park and the South African Traditional Music Awards. But she wanted to do more.
But she wanted to do more.
Ndaba recently opened Fifi & Son Pies, a pie business at the Ten Flags theme park in Rustenburg, South Africa — and in its first weekend, all of its pies were sold. The success of her business was applauded online with several posts from individuals encouraging her to expand it. Because her prices are low, she is considering making her business a franchise.
But she wanted to do more.
Ndaba started a foundation named after her son, Enzo, call The Enzo Foundation. She plans to use this foundation has her foray into social entrepreneurialism by donating a portion of her business profits to help people who are less fortunate. She explained her reasons for going into business
Ndaba lives with her son in South Africa.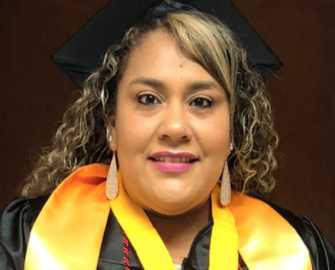 Her superpower? Pursuing higher education
Mariza Mojica spent most of her childhood traveling throughout the United States but not going on vacations and moving from military base to military base. She worked in the fields picking fruit with her family. She described her childhood as follows:
"I didn't like it because we moved from school to school and didn't know people. We would work after school. Our vacation was working. We also suffered in terms of housing. Sometimes there would be seven of us living in one room," she said in a Polk State College article.
These and other obstacles prevented Mojica from completing the credit requirements she needed to earn her high school diploma. Fifteen years later, she finally went back to school and obtained her GED. In the meantime, she became a single mom of four children and worked as a bartender full time.
Mojica met an advisor for migrant working families at Polk State College in Florida who encouraged her to pursue her associate degree. She earned her associate degree in 2022 and is seeking her bachelor's degree in applied science in supervision and management with a concentration in business administration. Through her studies, she has become interested in human resources because of how people helped her along her personal and professional journey. She explained further:
"Whether it's helping people get hired or helping my kids by showing them the importance of education, I just want to help others," she said in a Polk State College article.
Mojica lives with her four children in Florida.
If you know of a single parent with superpowers, please email at singleparentandstrong@gmail.com.
On Thursdays, I share a blog about being a single parent; some are about my personal experiences and those of other single mothers and single fathers, and others focus on news featuring single parents and the political, social and economic issues impacting them in the United States and globally.
I would love to hear from you! Feel free to send any comments and questions to me at singleparentandstrong@gmail.com. I am also on Twitter @parentsonurown and on Facebook.