Single parents may be overlooked, derided and discriminated against, but many of us are amazing contributors to our communities.
In this occasional series, I will be highlighting their accomplishments, big and small, to reveal that single parents are incredible individuals with amazing superpowers.
Below are single parents among whose accomplishments include his tremendous weight loss, her advocacy for special needs children and her fight for unemployment insurance benefits:
Jeff Moore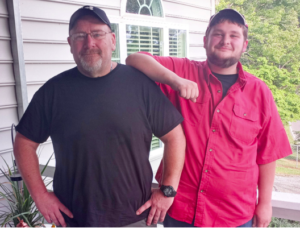 His superpower? Biggest loser.
Like many people, Moore turned to food to soothe the pain and frustration he succumbed to after his divorce and his parents' death and from his new, unfulfilling job.
Being thrust into single-fatherhood not only compounded his stress but affected his son Jason, whose weight was also increasing.
Eventually, Moore and his son were a combined 869 pounds, Moore at 443 pounds and Jason at 420.
"I was a single parent raising a small boy and all that kind of [came] together and contributed to over-eating and alcoholism. Life hasn't been easy, and I don't blame anyone but myself for my mistakes," said Moore in an article published by FoxNews.com.
He decided a change was needed for both of their well-being, so he and his son adopted the keto diet and exercised regularly, resulting in a combined weight loss of 295 pounds.
Moore lives in London, NC, with his son.
Cynterrya Burnett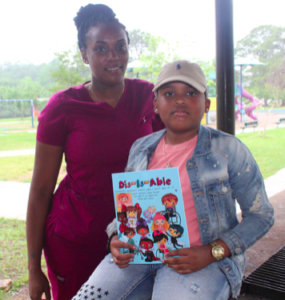 Her superpower? Special needs advocate.
Burnett has supported her son, Justin Jr., as he fought "battle after battle" from cerebral palsy to autism to other developmental delays and medical issues throughout his young life.
These challenges eventually inspired her 7-year-old son to write the book titled "Disabilities and Beyond" about superheroes, all of whom are children with special needs. In the book, Justin's superhero character is "Iron Man," who wears leg braces, just like Justin.
"Our motto is that disability doesn't mean you can't do it. It just means you have to do it a special kind of way," said Burnett in an article published by AL.com.
She currently runs Kids on the Go, a before- and after-school care provider, but she plans to open a day care specifically for children with special needs.
Burnett lives in Mobile, AL, with her son and daughter, Justis.
Nicole Robles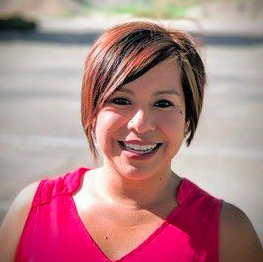 Her superpower? Voice for diversity.
Ever since high school, Robles knew she wanted to go to law school, but her educational plans were detoured with the birth of her son after she graduated with her bachelor's from Boise State University.
Once he reached the age of 6, Robles decided it was time for her to focus on her future, so she took the LSAT and was admitted to the University of Idaho College of Law.
To graduate, she was required to write a paper on business and entrepreneurship. Her life experience as a Latina inspired her to research the diversity of corporate boards in the United States and the European Union.
"[Diversity] is something we need as the world evolves. Diversity in thought, age, race and gender," said Robles in an article published by the Idaho Press.
She graduated from law school recently.
Robles lives in Boise, ID, with her son.
Lindsay Gallagher
Her superpower? Avenger for the unemployed.
Gallagher was outraged when she discovered that Maryland Gov. Lawrence Hogan was discontinuing unemployment benefits on July 3, 2021, saying that his decision was "discrimination against single parents."
Before the pandemic in March 2020, Gallagher was gainfully employed as a purchasing manager, but like so many, she lost her job and was surviving on unemployment, which paid less than her previous salary.
Complicating her efforts to secure a new position further is her 7-year-old son being placed on a waiting list for a summer camp that prioritizes the children of essential workers for placement.
"Us single mothers are stuck between a rock and a hard place," said Gallagher in an article published by MarylandReporter.com.
She had less than a month to find a new job and day care for her son, the latter of which is difficult because few day care centers survived the pandemic.
Her story was the backdrop of a story examining the pros and cons of continuing to distribute federal unemployment assistance to Maryland residents as the spread of the coronavirus is declining in Maryland and businesses are opening.
Gallagher lives in Crofton, MD, with her son.
Angel Livas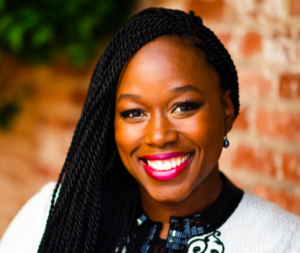 Her superpower? Media entrepreneur.
After more than two decades of media experience, Livas decided to start her own business and become the chief executive officer of DC Media Connection, but her work-related travel frequently took her away from her two sons.
When asked how she stayed connected with them, she said she has created bedtime rituals involving song and prayer and communicates where she is at that time. She also started a television show for them so they could see her at work and be part of her world.
Her sons are truly miracles, being born after Livas endured the painful and heartbreaking loss of five miscarriages.
"I really believe God took me through that, so that I would have a greater appreciation for my kids," said Livas in an article published by WTOPNews.com.
She lives in Alexandria, VA, with her two sons.
Polly Braden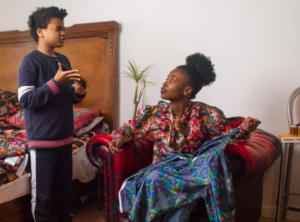 Her superpower? Eye for beauty.
Braden wanted to unpack the hardships and prejudices of single parents have endured as well as the strength and love they have demonstrated through the photographs of seven single-parent families.
Her powerful, year-long examination into these lives titled "Holding the Baby" is expected to be displayed this summer at the Museum of the Home in London.
"The people I've met in the making of this work constantly show their sense of adventure and their resilience transcends the often-difficult situations they face," said Braden in an article published by Stylist.
The families with whom she shared this journey were coping with economic pressures, unaffordable and unavailable child care, and benefit sanctions, yet they managed to provide their children with a sense of belonging and family.
If you know of a single parent with superpowers, please email at singleparentandstrong@gmail.com.
On Thursdays, I share a blog about a day in the actual life of a single parent.
Starting the summer of 2021, my son, Joseph, is writing a monthly column titled In My Son's Words where he describes his experiences as a teenager and as a child of a single parent.
Twice a month, instead of a personal post, I put together one where I assemble news on and about single parents nationally and globally.
I would love to hear from you! Feel free to send any comments and questions to me at singleparentandstrong@gmail.com. I am also on Twitter @parentsonurown and on Facebook.