When a child calls out in pain, a parent's instinct to protect and respond kicks in. I found myself in this horrifying position recently.
My son, Joseph, is a teenager unaware of — or oblivious to — his physical limitations because he is, well, … invincible. I don't know a single adult who did not believe they were unstoppable as a teen and, for some, as an adult in their 20s. How many of us bounced back after 24 hours without sleeping, drank whatever we wanted without a hangover or engaged in hardcore exercise without being in extreme pain?
Those were wild days!
Like many teens, Joseph decided after receiving his vaccination and emerging from his virtual learning cocoon that he was ready to enter the dating scene. He has tended away from pursuing girls with whom he has an interest because he's shy and introverted. Often, he serves as the wingman for his buddies — and has been proud of that role from a safe distance.
Building muscle
To help him in this new journey, his friends advised him to try strength training and build his physique as a sure-fire way to attract the ladies. However, their advice was a bit questionable I soon discovered.
They suggested that he lift heavy weights at fewer reps rather than the better option of lighter weights at many reps. Protein shakes were their fuel, a choice Joseph decided against, but the former? He definitely explored that option.
A few years ago, I purchased a Total Gym as part of my strength-building regimen. This piece of home exercise equipment uses your weight to complete a full-body circuit workout. Included with the equipment are prescribed routines to ensure all or select muscle groups are engaged.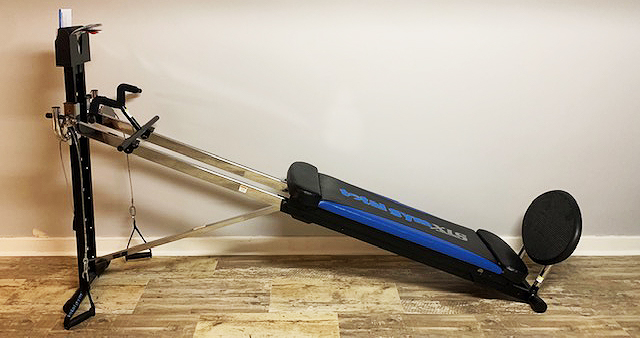 In high school, I used a similar piece of equipment to condition during and in between sports seasons. I played lacrosse and field hockey, both of which required an upper body and core strength, which that machine provided.
Respect the machine
I knew I had to develop my strength at one level in order to advance to the next one. The Total Gym has four levels from level 3, the lowest incline, to level 6, the highest incline. Each incline brings its own intensity to the workout and the anticipation of greater strength training.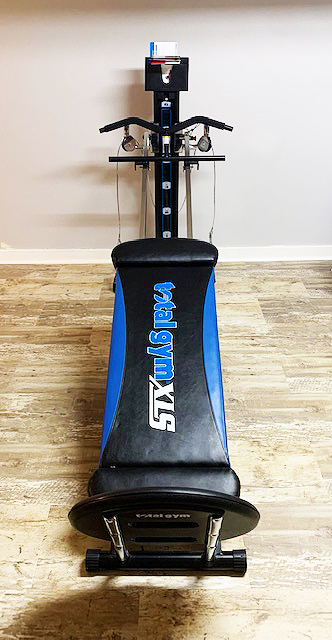 Downstairs in the basement sat the Total Gym, waiting in the darkness for Joseph, a tall, rather lanky young man. With a television to distract him and a routine to guide him, he worked out a few times a week in May. I could hear the quiet rumbling of the machine with each rep.
Feeling confident and also bored with the recommended starting level 3, Joseph decided after a short time to lift the glideboard that he sits on for his workout to level 4. What could that hurt? It's not much higher. Only a few inches.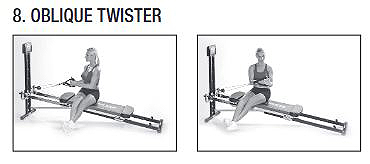 Bicep curls? No problem!
Squats? That's all you got!
Oblique twists? Oh my god, the strain!!!
That's what I heard when Joseph came up the stairs.
And that's when I told him to stop.
New and unpleasant pain
His core muscles simply weren't prepared to handle oblique twists at the higher incline. On the Total Gym, that exercise requires you to sit on the glideboard perpendicularly, grab the handles attached to the cables and pull with a twist.
It's tough on level 3; I know because I've done those reps. But level 4? That's a challenge!
Joseph complained about a pain in his lower abdomen and, particularly, his groin, which seemed to lessen over the coming weeks after he discontinued his workout regimen.
We were hopeful that the strain would take care of itself and, for all intents and purposes, it had.
He was feeling better and taking it easy until he began his new job at the fast-food restaurant.
Too much lifting
Like many teenagers, Joseph tends to keep things to himself.
Some days, I have to pry information out of him through endless questions and then piece together his apparent reality using one-word answers.
Other days, he is a fount of information, recounting stories about friends or describing problems he is struggling to resolve.
When he began his new job a couple of weeks ago, Joseph described mainly the food preparation for which he was responsible. He breaded raw chicken, rolling the meat through the batter, and prepared burgers, bending over slightly in the heat to assemble the ordered item.
His acute sense of smell made meal preparation unpleasant but bearable. And the physical discomfort he felt, he assured me was manageable and told me not to worry.
He appreciated his role on the team, but he wanted to take orders from customers and fill them. And I encouraged him to ask his boss for this training.
On Father's Day, I picked him up from a six-hour shift. As soon as he sat in the front seat of the car, Joseph turned to me and said:
"I'm in pain. My groin really hurts. I think I need to go to the hospital!"
He then described the many heavy boxes he had moved in and out of the freezer upwards of 25 to 50 pounds over the past couple of days. He mentioned the many times he lifted trash bags into the Dumpster.
I was shocked but not surprised. He's a team player and would help in any way he could, but now his body was saying, "Stop!" He's just a teenager, still growing!
When I asked if he told his manager about his pain, he said he hadn't. He was going to bear the pain and not create any problems. Not a good tactic!
Hernia?
I took Joseph home so he could change out of his stinky uniform and into comfortable, clean clothes. Then, I took him to Patient First, a decision that proved to be a wise one.
At this urgent care center, the doctor on staff quickly determined that he may have an inguinal hernia but she wasn't sure. An inguinal hernia occurs when tissue pokes through a weak spot in the abdominal muscles, causing, among other symptoms, pain and pressure in the groin and a bulge on either side of the pubic bone. She said:
"There's nothing we can do for you here. You need to go to the hospital immediately. I'll call and let them know you are on your way."
She handed us paperwork with this possible diagnosis for the emergency room doctor to review and we headed out the door. We reached the hospital in about 10 minutes and easily found a parking space in a nearby parking garage.
As we approached the ER entrance, a posted sign stated that access to the facility was restricted because of the pandemic. In all the madness, the coronavirus hadn't crossed my mind. A hospital employee approached us outside and I told her that Patient First sent us to this facility, showing her the paperwork we had received.
She ushered us inside and the admitting staff had received the call and were waiting for us. I provided the requested information and a nurse took down Joseph's vitals.
We were in the waiting area less than five minutes before a nurse took him to a room. I followed shortly after, which afforded me time to call my parents and my boyfriend, Lewis, about the developing situation.
About five hours later, we discovered after two rounds of sonograms that the hernia we suspected he may have could not be detected. The doctors could not feel a tell-tale bulge nor see one in the images. They suspected he was suffering from a strain in that area and told us to see his pediatrician as soon as possible for the next step in his care.
A doctor's note preventing Joseph from lifting anything over 10 pounds was a parting gift he emailed to his boss the next day. Later that day, Joseph learned that he could not return to work until medical professionals approved his return, at which point, Joseph asked his boss if he could work with customers and fill orders instead.
He did not respond.
Status now
On Monday, no pediatric appointments were available, but we snagged one Tuesday morning. The pediatrician examined his abdominal area, noted the absence of a bulge and questioned him about his recent physical activity.
The doctor had a dry sense of humor, much needed after the tense past couple of days, and commented on how teenagers believe they are unstoppable and, as a result, can hurt themselves as Joseph did. She referred him to a physical therapist and cautioned him to do the required exercises to build his core strength:
"If you don't, you'll be a pelvic cripple at the age of 17."
If that doesn't motivate anyone, I don't know what would!
After leaving the doctor, Joseph was frustrated. His summer employment was at a standstill and weeks of physical therapy awaited him. He enjoyed getting to know his coworkers after so many months of virtual learning during the pandemic.
He decided he needed to shift his attention to his summer school assignments. Perhaps, he could dive into his personal writing project. Maybe, he could learn about the stock market from his grandfather and make some small investments to earn money.
Then, he received a phone call from his boss and learned that he could, in fact, return and do the work he wanted and not the heavy lifting!
He returned to work a couple of days later but even the lighter work responsibilities created a painful strain. He has decided not only to focus on completing his school assignments but also writing his blog and social media posts for singleparentandstrong.com.
He hopes to return to work in August after his physical therapist releases him for activity.
Acting on my instinct to help my son when he was in pain not only benefited him, but it helped me realize how Joseph perceives himself and his responsibilities as he becomes a man.
Moments like these, though terrifying, allow us to pause and reflect.
That sort of heavy lifting can be life-changing.
On Thursdays, I share a blog about a day in the actual life of a single parent.
Starting the summer of 2021, my son, Joseph, is writing a monthly column titled In My Son's Words where he describes his experiences as a teenager and as a child of a single parent.
Twice a month, instead of a personal post, I put together one where I assemble news on and about single parents nationally and globally.
I would love to hear from you! Feel free to send any comments and questions to me at singleparentandstrong@gmail.com. I am also on Twitter @parentsonurown and on Facebook.