Single parents may be overlooked, derided and discriminated against, but many of us are amazing contributors to our communities.
In this occasional series, I will be highlighting their accomplishments, big and small, to reveal that single parents are incredible individuals with amazing superpowers.
Below are single parents among whose accomplishments include her 40-year-old nonprofit serving single parents and their children, her home built with a 3D printer, her horse-drawn carriage business, and her mission to create generational wealth: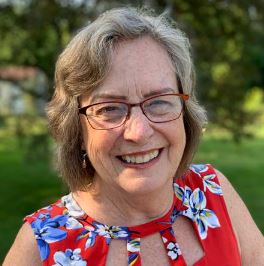 Her superpower? Beacon for single parents for 40 years.
Gail Grenier Sweet wanted to respond to the unmet needs of struggling single parents and their children in the Milwaukee area.
Forty years later, she was awarded the Shining Star Award from the Greater Menomonee Falls Foundation for the nonprofit she founded, HOPE Network for Single Parents.
In keeping with Sweet's original goal, the organization has been empowering single parents with resources and support through partnerships with area agencies to provide legal, domestic violence and educational services to the distribution of free donated baby supplies.
She began her nonprofit with no practical knowledge of how to do so, but through her charisma and networking skills, she built an organization that has helped countless families, providing them with what they needed to maintain their dignity.
Sweet describes the impact the HOPE Network has had on the lives of single parents and their children:
"I meet a woman and somehow the subject of HOPE comes up. With tears in her eyes, she will say, 'You helped me years ago when I had nothing.' The cribs and scholarships have changed lives. Giving someone HOPE is probably the most transformative thing we do," she said in the organization's newsletter, Sharing HOPE.
Access to the nonprofit's benefits requires only a $5 fee. For additional information, like and follow its Facebook page.
The Greater Menomonee Falls Foundation celebrates the founders and members of nonprofits who have championed the needs of its community through the Shining Star Award.
Sweet lives in Wisconsin.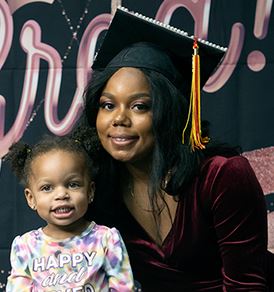 Her superpower? College student who refused to abandon her dreams.
Lauren Bowers had a plan: She would earn her bachelor's degree in three years and her law degree in three more years.
As an undergraduate, she worked for the Triton Telefund, raising more than $11,000 for scholarships at the University of Missouri-St. Louis, and as the university's first Criminology and Criminal Justice supplemental instructor, among other responsibilities.
Bowers was ambitious, tireless and determined, always reaching, striving and challenging herself.
But she reached a pivotal point in 2020. The birth of her daughter, Skye, that year coincided with the COVID-19 pandemic, her management internship and a five-course workload.
Bowers was overwhelmed and decided to take a short break from school during which she reflected on her life as a mother, student and woman. She re-enrolled in the university, dropped the internship and caught up on her coursework.
"I don't need to tolerate this; there will be another job. I was living to work, and I felt like I wasn't able to enjoy my life or be there for my daughter. I couldn't continue like that. I needed to reprioritize. I needed to finish my degree so other opportunities could open up to me," she said in an article published by the UMSL Daily.
Her life now required a new plan — or perhaps the willingness and open-mindedness to see and embrace the possibilities as they present themselves.
Bowers graduated with a major in criminology and criminal justice, but instead of jumping directly into law school, she is a college adviser in the high school she attended through the Missouri College Advising Corps.
She is now considering a career in education or counseling.
Bowers lives in Missouri with her 1-year-old daughter, Skye.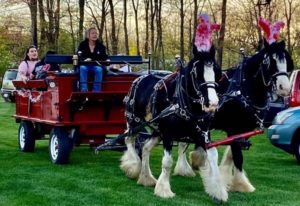 Her superpower? Horsewoman of gentle giants.
Her father warned her that Clydesdale horses could be dangerous and even prevented her from engaging with them on the family's horse farm.
But Lisa Steiner would not allow him to stop her from working with these beautiful, draft horses.
After his death, she attended horse-driving classes with her daughter, Skyler, and started her own business called Twinkle & Jingle Wagon Rides based near Walnutport, PA.
"My daughter was really young at the time, and I wanted to do something with her. It was important. I want her to learn how to do all this stuff, and kind of have a little leg up on things if she decides to go to college or not," Steiner said in an article published by The Morning Call.
Steiner and her daughter drive their Clydesdales, Lucy and Angus, on affordable, holiday wagon rides in the Lehigh Valley area in Pennsylvania. Their Facebook page has videos of the horses on rides and at their home, Big Red Barn Farm.
She and Skyler work together in caring for Lucy and Angus as part of their single mom and daughter, horse-drawn carriage business.
For a schedule or additional information, visit their Facebook page at Steiner Artisan Farm.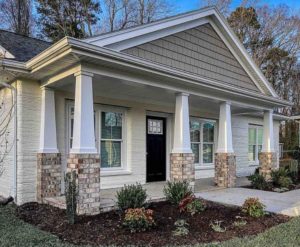 Her superpower? Futuristic, green homeowner.
For years, April Stringfield had been working three jobs while raising her son and believed that her dream of homeownership was an impossibility.
Regardless, she reached out to Habitat for Humanity Peninsula and Greater Williamsburg and became the first homeowner who was built a 3D-printed house by the nonprofit.
"My son and I are so thankful. I always wanted to be a homeowner. It's like a dream come true," Stringfield said in an article published by EuroNews.Green.
Habitat for Humanity constructs houses for people with low and moderate incomes through partnerships with local governments, businesses, schools, associations and individuals.
The nonprofit worked with 3D-printing company Alquist 3D, which supports and creates affordable housing, in constructing Stringfield's new residence.
Alquist 3D reduced the time and costs of building the three-bedroom and two-bathroom house using 3D-printing technology. Among its features are walls made of concrete, which are more energy-efficient and more resistant to hurricanes and tornadoes.
Stringfield lives in Virginia with her 13-year-old son.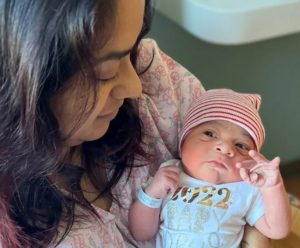 Her superpower? Mother of baby new year.
Ariana Ambriz-Torres couldn't have planned her son's birth any better: He was the first baby born in 2022 in a local hospital in California.
He made his debut at 12:13 a.m. in Ventura County Medical Center in Ventura.
Ambriz-Torres decided to go to the hospital around 8 p.m. on New Year's Eve because of difficulties sleeping.
She has yet to name her son, but she is considering names with the letter "A" to match her name as well as the names of her mother and his siblings.
Ambriz-Torres lives in Santa Paula, CA, with her infant son; two daughters, Annie,14, and Amberly, 11; and older son Alsredo, 9.
His superpower? Builder from the wreckage.
A landslide in the Cachipe Village on the coast of Trinidad destroyed Marcus Bruce's house but not his spirit.
He was determined to have a new house built in time for his son's fifth birthday.
After the landslide destroyed his home, Bruce and his two sons stayed with a relative, but space in their home was cramped and they resorted to sleeping on a mattress in the hallway.
With some money from friends and materials he salvaged from his previous house, Bruce planned to construct a wooden structure that would be livable even though it may lack water and electricity at the time they would move into it.
"I don't know how far it would reach, but I am still thankful for what I get," he said in an article published by Guardian Trinidad & Tobago.
The landslide occurred shortly before Christmas.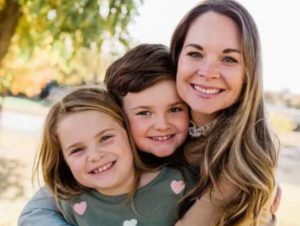 Her superpower? Advocate for the power of art in books.
Molly Bellah's love of children, literature and illustration books inspired her to join the National Center for Children's Illustrated Literature and her deepening commitment to the organization resulted in her promotion to executive director.
"All of this has just been surreal and fascinating. I've truly enjoyed every minute of it, and it feels like it's not just a job. It is a passion, and I really love being here," she said in an article published in the Abilene Reporter News.
Since 1997, the museum in Abilene, TX, has exhibited the works of award-winning illustrators as well as provided book signings, workshops and art camps, and instructional tours, among other offerings.
Bellah's love and admiration for its mission are personal. As a child, she found it difficult to read because of her dyslexia. Artwork and illustrations served as bridges for communication and understanding.
She started with NCCIL as the development director two years before her new position.
Bellah lives in Abilene, TX, with her son and daughter.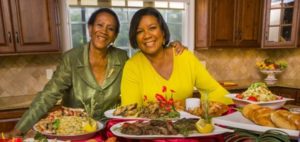 Her superpower? Entrepreneur with flavorful flair.
Debra Sandler no longer wanted to run other people's multibillion-dollar businesses after decades of working in high-level positions for PepsiCo., Johnson & Johnson and Mars.
Instead, she has entered the entrepreneurial space with her own business called Mavis Foods, LLC, creator of Bazodee Caribbean sauces inspired by a family recipe from her aunt Mavis Davis.
"My role as a single mother is to make sure that I am building generational wealth. We don't always have it in black families. I was a good earner, but especially as you get older, you start thinking about, 'how do I set this thing up, that all that I've earned long after I'm gone my great, great-grandchildren are benefiting in some way?'" she said in an article published by BlackEnterprise.com.
Her decision to become a small-business owner took a great deal of courage, she added, but her professional experience taught her how to raise capital and manage finances, develop and implement a business plan, and cultivate a supportive and trustworthy network.
If you know of a single parent with superpowers, please email at singleparentandstrong@gmail.com.
On Thursdays, I share a blog about a day in the actual life of a single parent.
Starting the summer of 2021, my son, Joseph, is writing a monthly column titled In My Son's Words where he describes his experiences as a teenager and as a child of a single parent.
Twice a month, instead of a personal post, I put together one where I assemble news on and about single parents nationally and globally.
I would love to hear from you! Feel free to send any comments and questions to me at singleparentandstrong@gmail.com. I am also on Twitter @parentsonurown and on Facebook.