Information overload can easily evoke information anxiety, a vexatious zone where so many of us feel we are stranded.
For the majority of single parents, juggling parenting, working and surviving dominates their daily existence, leaving them simply exhausted and running on a superhuman form of adrenalin.
In the meantime, information is bubbling and spewing around the clock from various sources, some reliable and trustworthy and others, just deceitful and manipulative.
This convoluted environment awaits the many single parents who finally burrow to the proverbial surface in search of unbiased, factual and objective sustenance — whether they realize it or not.
Instead, they discover they must be on their guard against the con artists, scammers, charlatans, fraudsters and manipulators who try to juggle them.
Never has this situation been truer than with the COVID-19 pandemic.
During the past several days, I have been slogging through search engine results seeking credible resources on this virus that would help me write articles for a company newsletter for staff members who moonlight as caregivers of older adults in their families.
My labors were not in vain! I discovered several resources that I wanted to share with you, dear reader, in the hopes of providing you with some much-needed direction — and empowerment.
Is your disinfectant effective at destroying COVID-19?
The U.S. Centers for Disease Control and Prevention suggests cleaning high-traffic areas, such as tables, doorknobs, light switches, countertops, handles, desks, phones, keyboards, toilets, faucets and sinks, as one of its prevention measures against coronavirus.
To help are disinfectants that have an established and proven history of being reliable products in the marketplace.
But some people are primed with desperation, fear and mistrust to be the perfect targets for scammers "manufacturing" so-called disinfectants with misleading labels and frightening ingredients.
For example, a man from Frederick, MD, was arrested in 2020 after allegedly purchasing "pesticides of unknown origin," repackaging the contents using fraudulent labels and selling the new product as a disinfectant on eBay, according to the U.S. Attorney's Office for the District of Maryland.
If you want to know if your cleaning product is legitimate, the U.S. Environmental Protection Agency has a simple way for you to check.
Clicking on this website takes you to this page where you can launch the EPA's database for List N disinfectants that have been found to be effective at killing SARS-CoV-2 (COVID-19) — if used as directed: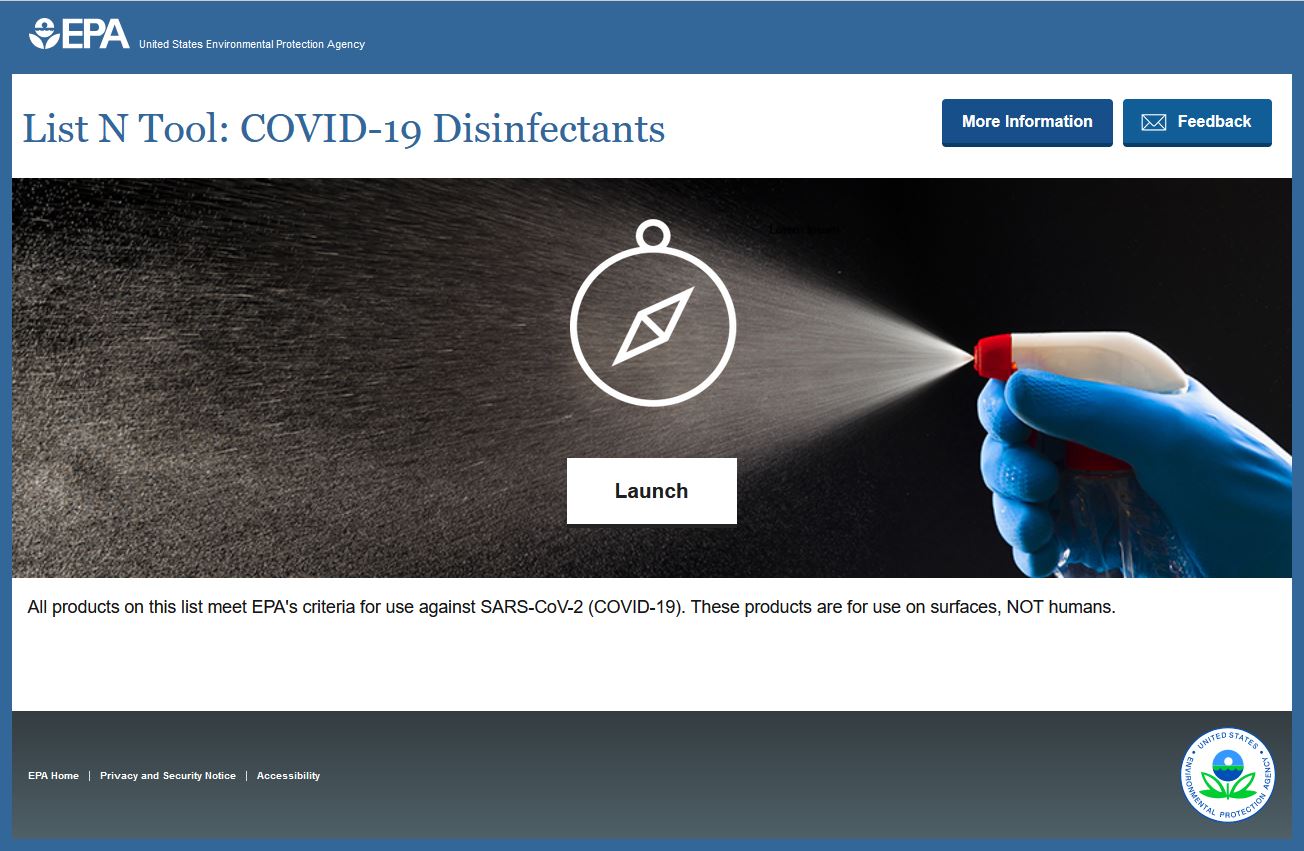 At the top of the next webpage are seven search options on the left: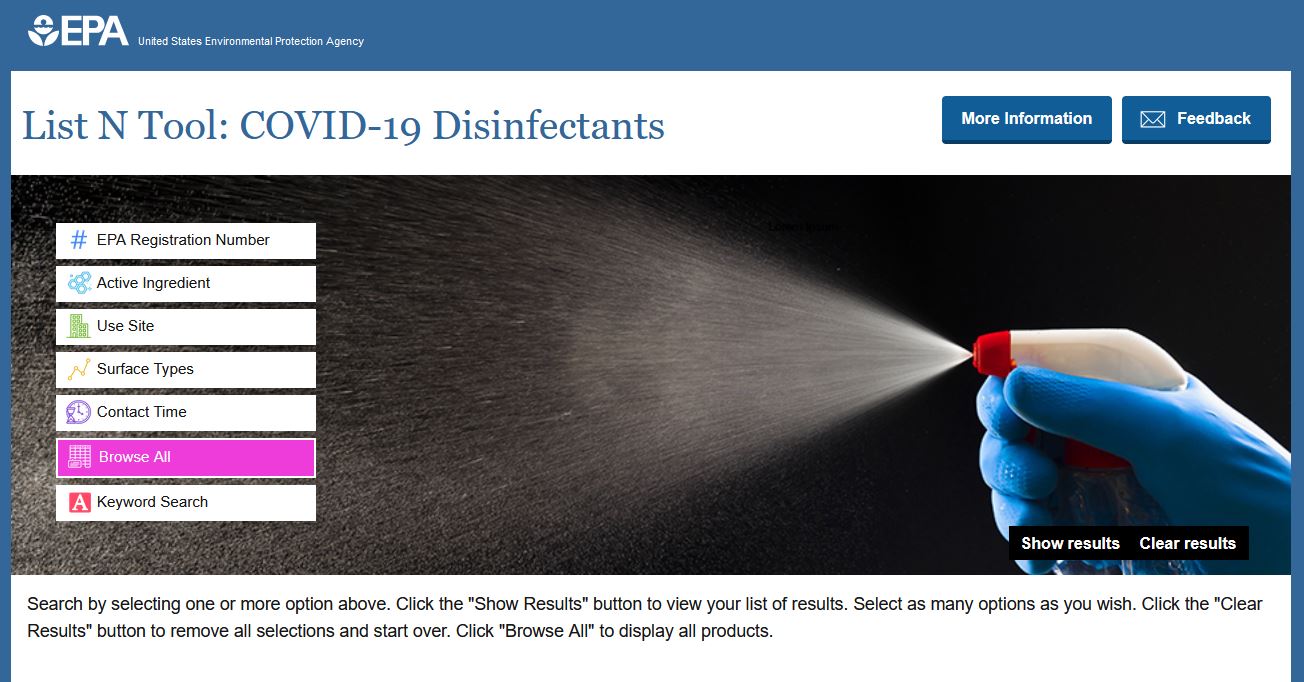 Below the search options is the database with approved disinfectants that have been proven to be effective against particular viruses:

To determine if your current product is effective against the virus, plug the EPA Registration Number on the label into its corresponding search field among the seven search options: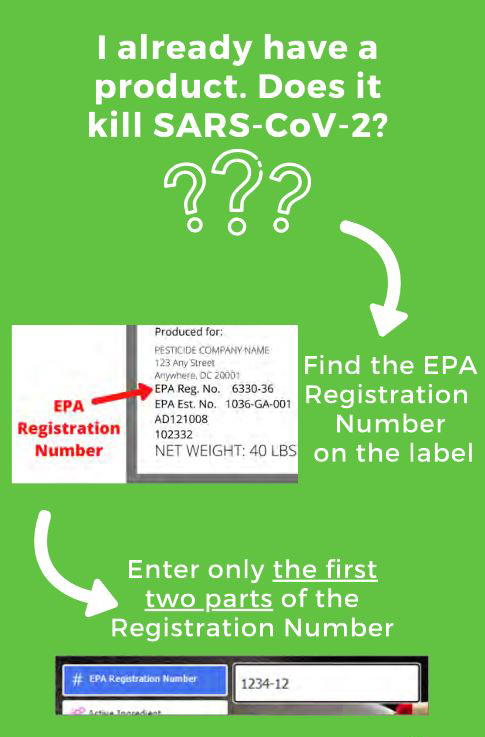 Sometimes, the company and product names don't match because disinfectants can be sold under different product and brand names. By using the first four numbers — the company or entity that registered the product with the EPA — and the second two numbers — which product it is — the disinfectant can be correctly identified.
What's a good resource for tracking COVID-19 cases?
Tracking the spread of the coronavirus through tests, cases, vaccinations and deaths requires U.S. states and territories to report that data. Unfortunately, the states and territories use different approaches to report data making it difficult to track the virus in real time. Florida has not reported data for months, according to the Johns Hopkins Coronavirus Resource Center.
The center gathers information from various sources and databases in the United States and worldwide ranging from testing to state policies.
If you want to see the stats in your county, the center offers that breakdown. On the homepage, click on U.S. Map at the top and select the state and county from the dropdown menus near the top of the webpage: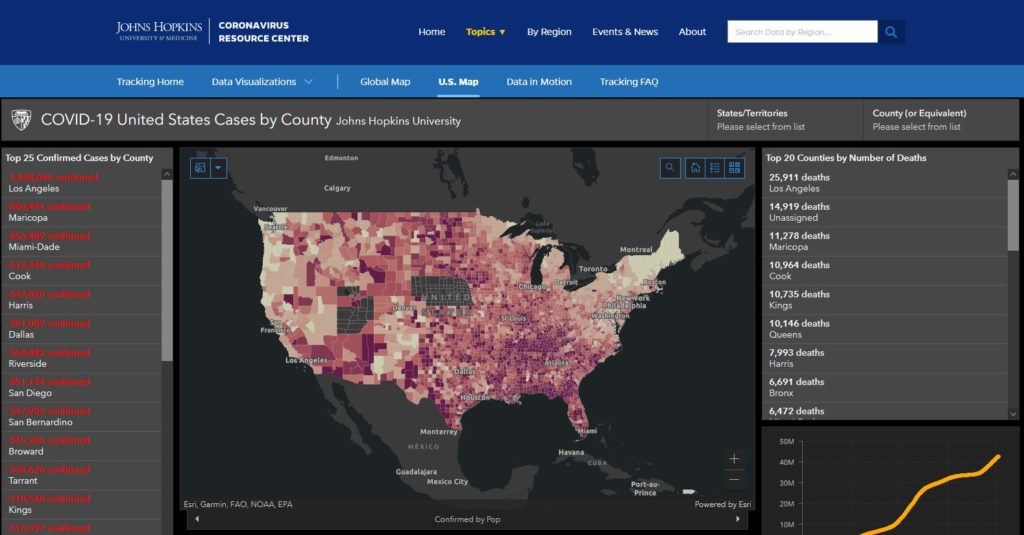 After selecting Howard County in Maryland, for example, the map presented that county and when I hovered over it, the pop-up box appeared with the COVID-19 Status Report: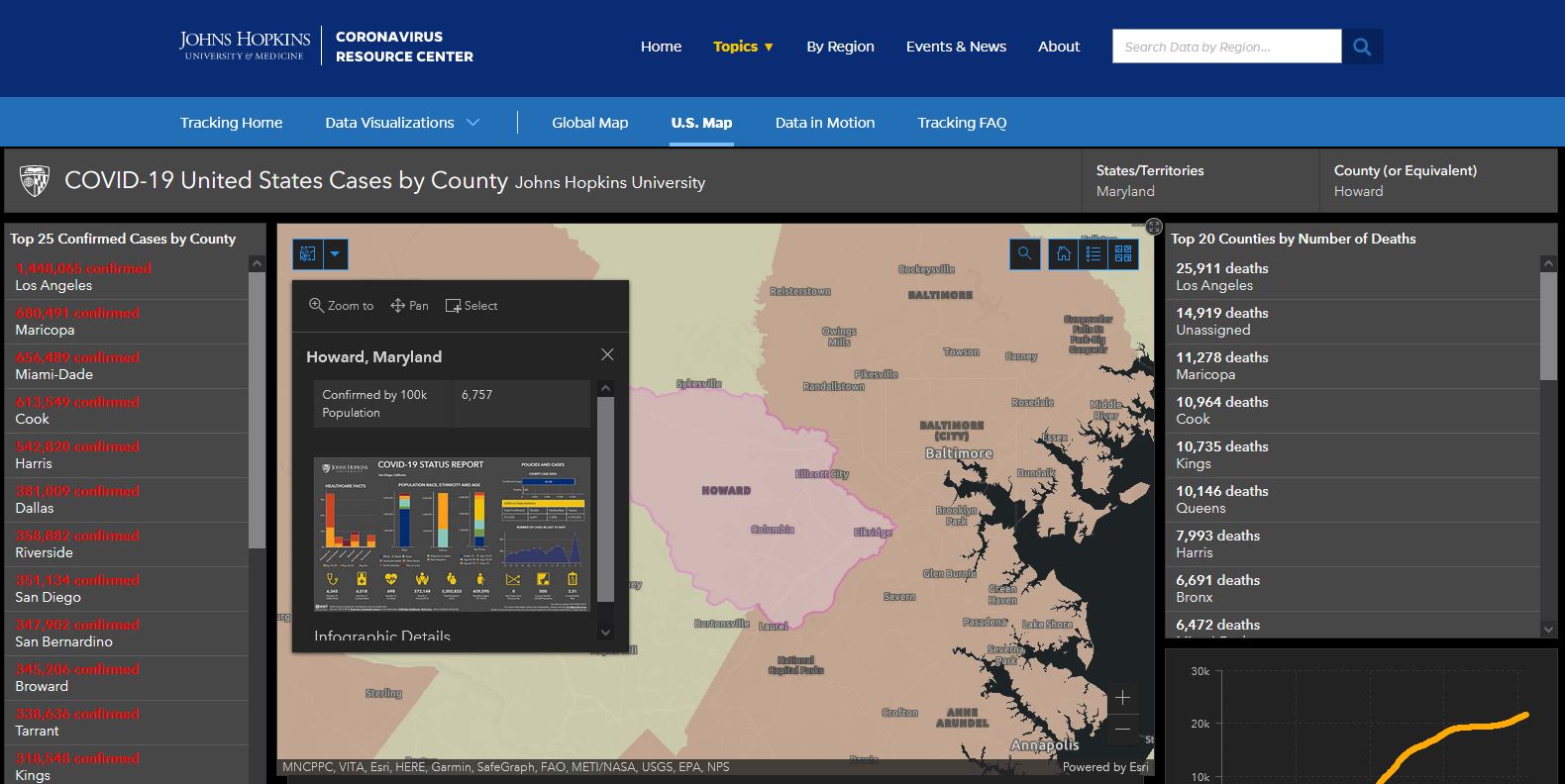 If you are interested in data analysis, the center has created visuals that contextualize the coronavirus under the Data Visualizations tab on the homepage: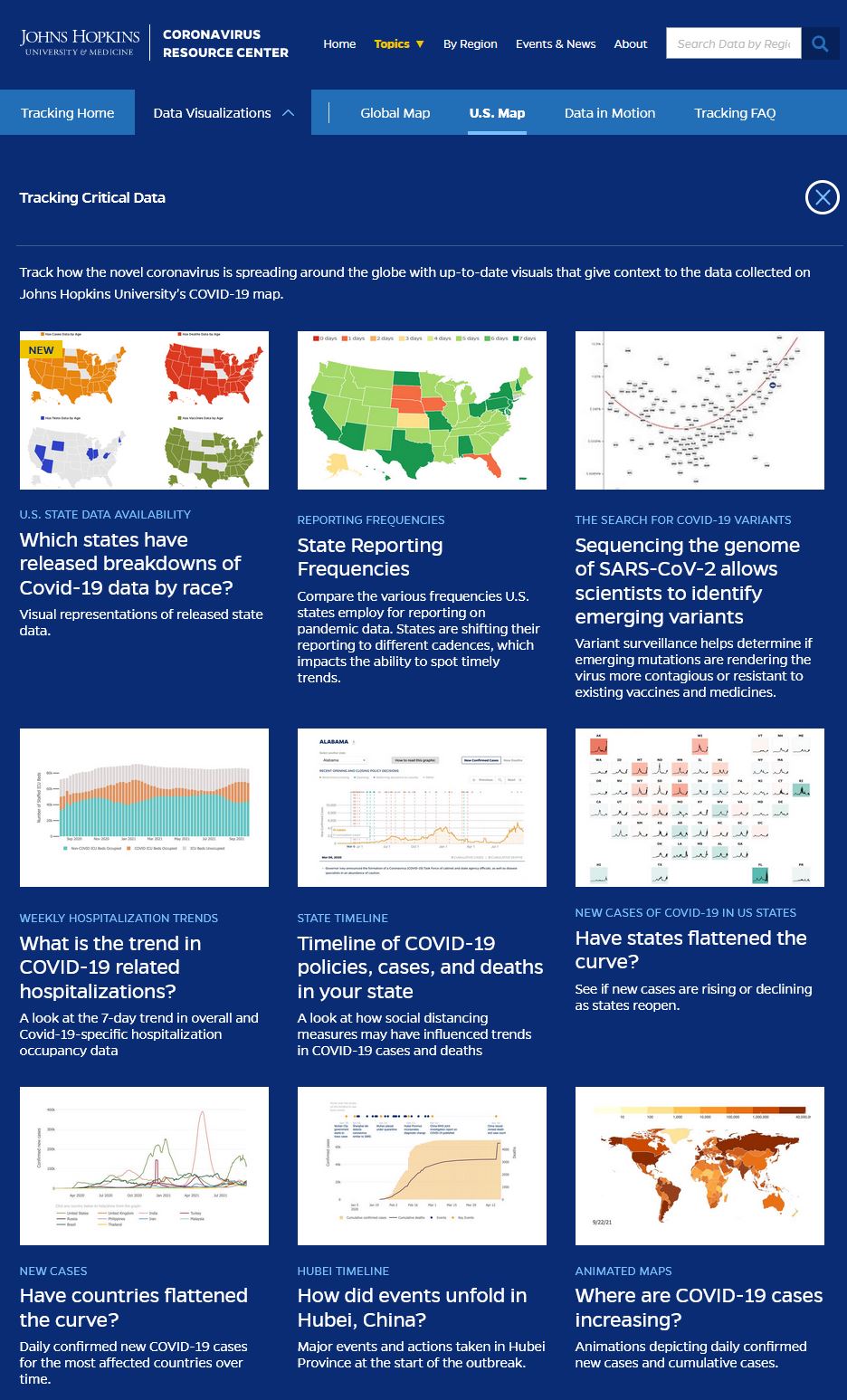 Health departments in U.S. states and territories should be tracking COVID-19 as well.
Other organizations involved in disseminating trusted information are posting their data sources for transparency purposes. The Mayo Clinic, a nonprofit academic medical center focused on health care, education and research, uses data from the CDC and the U.S. Department of Health & Human Services, among others, in compiling its data reports.
How can I tell if I'm a victim of a COVID-19 scam?
I'm not gonna lie. It's the Wild West of scams when it comes to COVID-19.
Bad actors are hitting up consumers using text messages, robocalls, phone calls, social media, websites, email and snail mail. Following are some of the latest and greatest from the Federal Communications Commission and other federal and state agencies:
Other scams include charging for the COVID-19 vaccine, which is actually free; selling fraudulent or unapproved antibody tests; and offering "pre-approved" medications or supplies through fake pharmacies.
New and inventive scams pop up all of the time, making it difficult to anticipate them; however, the following are some best practices to protect yourself in this new Wild West:
Do not click on links or open attachments in any suspicious message. Doing so could expose you to malware that steals your personal information.
Do not respond to the number used in the email or the text. If you want to contact the company, use the contact information you can confirm online or through another legitimate means.
Do not provide your bank account, credit card or personal information to anyone.
Do not pay any money for a "free" government grant or program.
Do not provide personal information or money to officials with "government agencies" if they call you. Legitimate government agencies will never call you to ask for either.
Do not respond to calls or texts from unknown numbers.
Do your homework and investigate whether a charity exists before donating.
Do not provide insurance information to unsolicited offers.
Suspected or actual frauds can be reported to your local law enforcement or the Federal Trade Commission.
Dear reader, I hope this column empowers you more than overwhelms you. Single moms and single dads need to look out for each other. Today, it's my turn to help you traverse this crazy landscape.
Take care and be safe!