I can only assume my obsession with horror movies was a bizarre craving that emerged in the last trimester of my pregnancy.
Never before had I sought out and consumed these films with such voracity.
With my son kicking in my womb room, I slowly perused the DVD jackets on the walls at my local Blockbuster video rental store. I passed on campy films, utterly ridiculous spoofs or obvious low-budget movies.
Instead, I gravitated to more serious horror films, such as "Night of the Living Dead," "Texas Chainsaw Massacre" and "28 Days Later."
For the next three or more days — depending on however long I held the movie hostage from other customers — I climbed under my blankets, turned off my lights, locked the doors to my apartment and watched my eerie selection.
And ate donuts. Tons of donuts … another one of my cravings.
Being on bed rest for nearly two months before Joseph's birth allowed me to indulge in many frightening movies. What a weird way for a mother and her future son to bond.
Several years later, our fascination with these films has lessened. Our interests have turned toward mockumentaries and documentaries, primarily, on Netflix or news clips and ridiculous videos on YouTube.
But when Halloween approaches, Joseph and I do enjoy a good scare — now in real life.
Field of Screams
This past weekend, we decided to go to Field of Screams, a nearby fright fest that has received rave reviews, earning it the No. 1 spot for best haunted attraction in USA Today.
Joseph and I had screamed our way through this experience in Lancaster County in Pennsylvania a few years ago.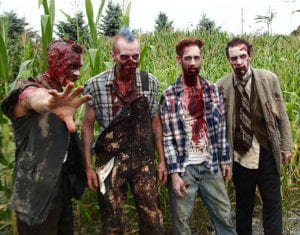 Transformed into well-known characters from horror films past and present, actors jumped — or crawled — out from corners, wall spaces, cells and cornstalks.
Their menacing approaches and spooky quips scared the hell out of us! I mean, who doesn't love being chased by a blood-soaked homicidal maniac with a chainsaw?
Combined with well-designed, creepy attractions, like the Den of Darkness, Frightmare Asylum and Nocturnal Wasteland, who wouldn't be terrified?
Joseph and I, dressed for a chilly evening, left the comfort and safety of our home after sunset in search of horror.
To wait or not to wait?
Our 45-minute drive involved reminisces of that spine-chilling evening and speculation over how the attractions had been improved since our last visit.
A local highway brought us to the exit for Field of Screams — and a long line of stopped vehicles. And still more were on the road we planned to merge onto leading to the parking lot.
We thought we had beat the big crowds by coming early — around 7:30 p.m. — but I soon discovered that a concert and DJ were among the highlights that night. Thus, explaining the looonnng lines.
We decided to wait. And wait. And wait.
For 10 minutes, we watched vehicles idling rather than slowly crawling to the lot.
Neither of us wanted to kill time for who knows how long sitting in this line and possibly longer lines for each attraction at Field of Screams.
Jason's Woods
Turning to my phone, I Googled another venue that had also advertised on local billboards, Jason's Woods, only 20 minutes away in Lancaster County.
The photos looked scary enough and the name seemed inspired by Jason from the "Friday the 13th" movies, so we decided to pull out of the line of vehicles — that had still not moved — and make our way there.
Dear readers, as you well know, I despise driving on lonely, country roads at night, but I found myself doing so that evening.
With the only light coming from vehicles, mine and others, the unexpected twists and turns seemed more treacherous and frightening. I decided to take this unwelcome road trip in stride as preparation for the scares and screams awaiting us.
Finally, a sign appeared, pointing to the parking lot for Jason's Woods, from a cornfield. We turned into a grassy area and were directed to a space near the entrance, leaving me confident that I would have no difficulty finding my car later.
We trudged through the lot between the parked vehicles to a lit area bordered, in part, by food trucks peddling … well … food stuffs of a fried nature.
Following a small group, we found ourselves in the middle of Jason's Woods only to discover that the hype was just that, hype.
Thanks for the hype!
Jason's Woods was no Field of Screams.
Projected on a big screen on one side of the "woods" were movie and interview clips from horror films and their actors. But there was no sound.
And why should there be? We had the "melodious" tunes of a punk rock band from New York to entertain us.
I felt sorry for the group, dressed in sad, ill-fitting costumes, as the lead singer tried to muster some excitement from the people in line.
The only people who danced or showed any real interest in the band or its music were two little girls, one dressed as a princess and another as a zombie.
The girls had no rhythm and couldn't find a beat if it bit them, but they seemed to be having fun.
We waited more than half an hour to purchase our tickets, giving us ample time to comment on the tractor-trailers that were part of this haunted experience.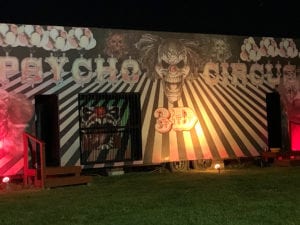 Did we really need to walk through them for a scare? Not really. And to be honest with you, the idea of walking through a trailer rather than an actual haunted attraction just didn't appeal to us.
As we observed more and more people arriving, we decided to focus our money and time on the Chamber of Horrors, Zombie Apocalypse and Haunted Hayride.
Chamber of Horrors
We raced to the shortest line first at the Chamber of Horrors only to discover a vexing group — and they weren't actors in costume — the VIP ticket holders!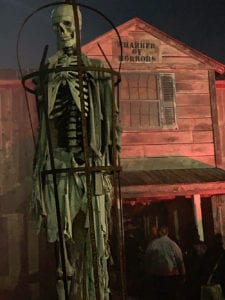 There seemed to be more of them than the regular ticket holders like my son and me.
Their VIP status granted them a separate line and a quicker admittance to the attractions. And they seemed to enjoy flaunting what their money could buy! Their feigned confusion over which line was for them wore thin quickly.
But wait we did until our turn came, and we followed the VIP ticket holders through the doorway.
As I would have expected, actors jumped out from corners and wall spaces, approaching in a menacing manner and reciting their scary quips.
However, the lighting inside was poor and, at times, nonexistent, making it difficult for us to find our way. That was more frightening than the actors. I could only wonder if the darkness was concealing a lack of décor, but I will never know.
I definitely screamed because I enjoy the thrill of being scared, but what really freaked me out was the smell.
Yes, the smell
My son has an incredibly strong olfactory system that makes him sensitive to scents and odors that go undetected by most or are more intensely experienced. At times, this gift can be maddening.
In Joseph's words? The building smelled rank.
Adding to that was the fog machine and its foul stench wafting through the field.
Oh … and let's not forget the remnant odors of manure from the surrounding farmland that seemed more pronounced now than when we arrived.
But did we soldier on to our next attraction? Of course!
Zombie Apocalypse
We are zombie fans, and we had to experience the Zombie Apocalypse.
While we stood in line, Joseph covered his nose with his sweatshirt to avoid smelling as much of the odors as possible. We hoped his suffering would be worth it.
Part of the attraction involved dummies standing motionless in a neglected, grassy area in front of a series of buildings.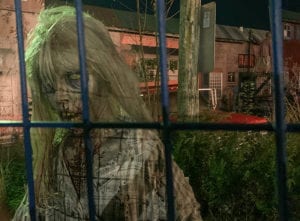 Our wait would have been so much more entertaining if we had real people masquerading as zombies, tormenting the regular and VIP ticket holders alike. What a missed opportunity!
A good way to determine an attraction's success is by watching the people leaving it.
At the exit of each attraction at Field of Dreams, people were laughing, holding on to each other in disbelief or running away from a homicidal maniac wielding a chainsaw or carrying a pig's head.
But not so at the Zombie Apocalypse.
These folks appeared oddly expressionless. No fear. No excitement. No laughter. No nothing. Perhaps, they were zombies themselves.
Regardless, Joseph and I were determined to enjoy ourselves and entered the building fearlessly.
Yes, the smell
As in the Chamber of Horrors, the lighting was limited and the actors were fine. I screamed and laughed quite a bit.
But the stench was overpowering — even for me! Thank goodness, this blog does not come with a Smell-O-Vision plugin, dear reader!
Joseph ran out of the building and inhaled as deeply as he could handle, but the end of our evening had arrived. The Haunted Hayride would have to wait for another year — or never.
He could no longer endure the barrage of odors as nausea swept over him. His agony was made worse by the 10 green port-a-potties and fried foods nearby.
Where's my car?
We made a beeline through Jason's Woods to the parking lot only to discover that nearly every space was occupied. Only a small portion of the lot was filled when we arrived that evening around 8 p.m.
As we approached the entrance to the field where I knew my car to be, I pressed the button on my key fob that unlocks its doors and flashes its headlights.
I saw a flash and walked in that direction, but it wasn't my car. It was someone else's vehicle.
Believing I saw lights flashing in error, I pressed the button and it happened again!
The SUV's lights went on and its doors unlocked.
Surprised? Yes! But I have always believed that one fob could access more than one vehicle; it's just a matter of finding that special vehicle. Kind of like online dating.
My belief may have been confirmed, but that didn't help me find my car and my son was miserable.
So, what did I do? I just kept pressing the button, aiming it in the direction where I believed my car was parked.
In the meantime, the SUV's lights kept flashing and its doors were locking and unlocking
Finally, Joseph, who was ahead of me, pointed to a headlight that flashed behind a large pickup truck.
And there she was … waiting for us!
So many of our excursions have not turned out the way Joseph and I would have expected.
For example, our Christmas Eve ride home from a family get-together turned into a discussion on a questionable marketing technique involving Thomas the Tank Engine.
And this evening was no different.
Who would have thought stenches, low-quality attractions and long lines would have resulted in our rush for home?
Better luck next year!
Editor's note: The zombie featured in the main photo wanted to get in my face at the Zombie Apocalypse attraction at Jason's Woods in Lancaster County, PA.
On Thursdays, I share a blog about a day in the actual life of a single parent. Every fourth Thursday, instead of a personal post, I put together one where I assemble news on and about single parents nationally and globally.
I would love to hear from you! Feel free to send any comments and questions to me at singleparentandstrong@gmail.com. I am also on Twitter @parentsonurown and can be found by searching #singleparentandstrong.