Single parents struggle to overcome poverty and social biases, but the statistics and societal attitudes reveal they have an uphill battle.
Some of the news articles about single parents described and linked to in this post are clearly inspiring but others may surprise and alarm you. They aspire to broaden our perspective and understanding of single parents and their experiences worldwide.
If you have trouble getting to these links, feel free to email me at singleparentandstrong@gmail.com and I'll send PDFs of them to you.
Only single mothers are eligible for a guaranteed income pilot program in Birmingham, AL. The initiative called Embrace Mothers is one of a growing number of programs seeking to help people who are struggling financially through a partnership with the Mayors for a Guaranteed Income, resulting in the program receiving and responsible for distributing $500,000. Applications are being accepted from January 31, 2022, to February 7, 2022. The 110 women selected for this pilot are expected to receive monthly payments of $375 for 12 months with no strings attached. Mayor Randall L. Woodfin agreed to join Embrace Mothers, which is researching the impact of guaranteed income on individuals and families:
"Single-mother-led families represent about 60 percent of all City of Birmingham households with children. This program stands to help these courageous women establish a solid footing during a time that has been very unsteady. Creating stronger, healthier households makes for a stronger healthier city and it is my honor to do all that I can make that happen."
To apply or seek more information, visit Embrace Mothers or call 205.254.2702.
A similar initiative offered through a partnership between MGI and the city of Shreveport, LA, is expected to announce the recipients of $660 per month for 12 months in February 2022. Applications were due January 17, 2022. Shreveport Mayor Adrian Perkins described how the program could help the city's residents:
"An estimated 25 percent of the citizens in Shreveport are living in poverty and a guaranteed income would empower recipients to address their most urgent day-to-day needs and unpredictable expenses."
Shreveport's Guaranteed Income Program is available to 110 single parents as defined as a "mother, father, stepparent, grandparent, caregiver, or legal guardian with a school-age child."
Similar to the Mayors for a Guaranteed Income pilot program, the United Way is distributing monthly stipends to eligible recipients in California as part of its guaranteed income program called the Direct Investment Program in Sacramento. DIPS is providing $300 monthly to 100 people through June 2023. During the 12-month period, the nonprofit is planning to observe the program's financial and social outcomes as well as the participant's quality of life. Project lead Cameron Collins referred to the importance of $300 in changing a person's life:
"It is about resiliency and self-determination. It's really hard to make choices for yourself when you don't know what you're going to have to pay for next month. … Even if it's only $300, that's something to plan around."
For more information on this program and its plans to expand, visit DIPS.
This payment program is not associated with the Mayors for a Guaranteed Income pilot program mentioned above. The program discussed in this article is called Baby's First Years, a multiyear study launched by nine researchers who are evaluating the brain development of children who live in low-income, single-parent households. Single mothers, specifically, participated in this experiment, because they tend to live in higher levels of poverty with their children than other demographics in the United States, according to US Census data. In May 2018, researchers recruited 435 single mothers from post-partum hospital wards in cities throughout the country, including New Orleans, New York City, Omaha and Minneapolis-St. Paul. The mothers who received either $333 or $20 monthly agreed to have their child's brain activity evaluated for approximately four years, resulting in the following insights emerging from the study thus far:
"The researchers found that infants whose mothers received $333 per month 'had more high-frequency brain activity' — a sign of better language development and brain development — compared with infants whose mothers received $20 per month."
These observations support the assertion that poverty affects brain development. Further research on how the mothers used the money and how this stipend affected their employment goals is expected to be published as well. The study has been funded, in part, by the Bezos Family Foundation and the Bill and Melinda Gates Foundation.
Single parents in the United Kingdom are expected to pay about a quarter of their income for increasing heating and electricity bills in April when the government lifts the energy price cap. Katie Schmuecker, deputy director of policy and partnerships at the Joseph Rowntree Foundation, a nonprofit that conducts and funds research aimed at solving poverty in the UK, sounded the alarm:
"Rising energy prices will affect us all, but our analysis shows they have the potential to devastate the budgets of families on the lowest incomes. The government cannot stand by and allow the rising cost of living to knock people off their feet. The alarm is sounding loud and clear and the case for targeted support to help people on the lowest incomes could not be clearer."
Their so-called energy poverty is projected to impact nearly 2 million children.
A 2017 lawsuit filed by single mother Latasha Holloway resulted in the major overhaul of the Virginia Beach voting map. A federal judge approved a map divided into 10 districts and restricts voters to cast ballots in the district where they reside. The new map, which applies to city council and school board elections, goes into effect in 2022. The previous map, Holloway claimed in her suit, was illegal and discriminatory. Under that map, seven city council members had to live where they were represented but three other members could reside anywhere in Virginia Beach. Also, voters could select candidates in all 10 races. Because the city population is mostly white, this system made it difficult for minority candidates to be elected, according to the complaint and U.S. District Court judge's ruling. The judge also found that the previous map violated the Voting Rights Act of 1965. The new map evenly divides the population into 10 districts with each having about 46,000 residents.
Single parent-led families make up 5 percent of households in Croatia, the lowest of any country in the European Union, according to data from Eurostat, the statistical office of the EU. The country with the highest number is Sweden at nearly 35 percent.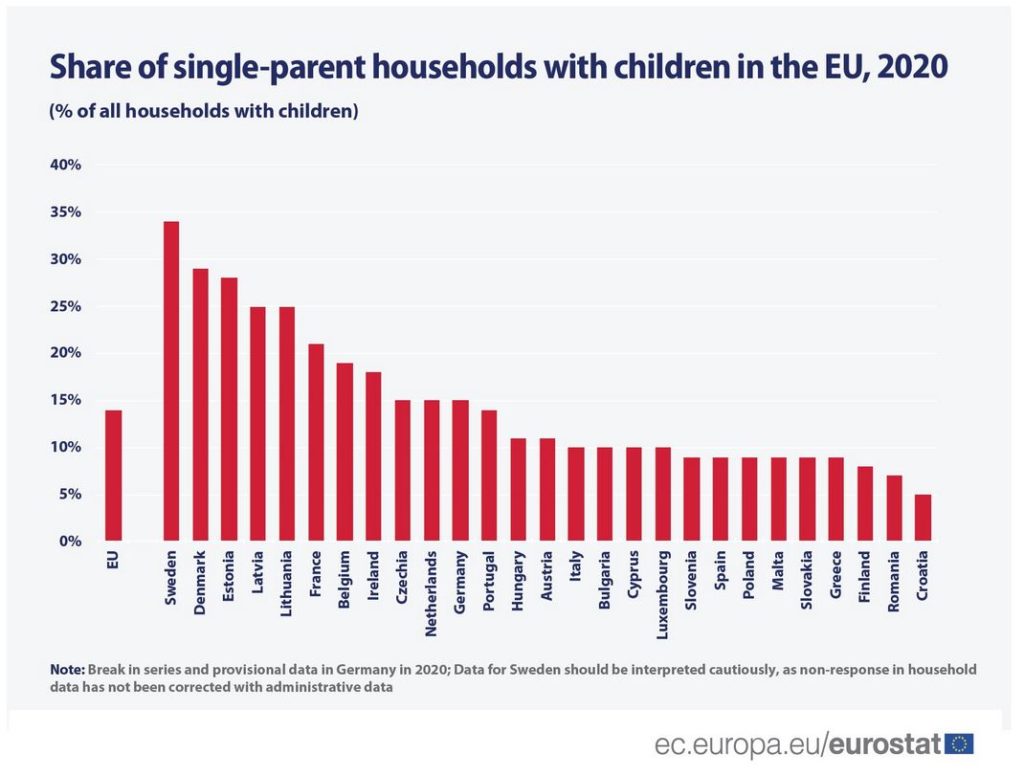 Across the pond, nearly 25 percent of the United States' population are single-parent households. All data are based on 2020 figures.
The impact of COVID-19 temporary school closures in spring 2020 on children's learning was studied in Japan, revealing that the children of parents without college disagrees and unmarried fared the worst. Key issues in the study included the availability of parents to help the children with their homework and the students' completion of their homework. A group, including professor Takayasu Nakamura of the University of Tokyo's Graduate School of Education, conducted the survey and analyzed the results. He noted the value of the results for school officials:
"The results suggest that households, where both parents don't have college degrees and single-mother families, may have needed support during temporary school closures, because they didn't have time to attend to their children's education. When considering temporarily canceling classes, keeping these consequences in mind might be necessary."
The government's Ministry of Education, Culture, Sports, Science and Technology completed this survey of middle and high school students in February 2021. The children lived in households where both parents had college degrees, one parent had a college degree, both parents did not have college degrees, a single mother had a college degree and a single mother did not have a college degree. In Japan, the overwhelming majority of single-parent households are led by women.
A pilot program reveals areas of need for a growing college student population of single parents, who comprise more than 10 percent of students in the United States. The program called Single Moms Success Design Challenge, which is led by the Education Design Lab, a Washington D.C.-based nonprofit, is evaluating the experience of single mothers from 2019 to 2024 at four community colleges. This article examines four need areas in advance of the study's conclusions in the hopes that administrators can respond sooner. The areas are resources, flexibility, career counseling and community. Scholarships, grants, loans, work-study programs and other financial assistance are not usually accessed by single parents, who are living at or near the poverty level, because of social stigmas, shame, embarrassment and ignorance. To help, single parents should be told that other people access these moneys as a way of socially normalizing this experience. Colleges can offer hybrid instruction for single parents who are experiencing time poverty because of shifting work schedules and sick children, for example. Single mothers should be encouraged to speak with career counselors about their professional goals and have access to a supportive community of single parents to make connections. SMSDC is following between 6,000 and 8,000 students in four states.
Lawmakers in Washington state are proposing changes to state workers' laws that could benefit single parents. A bill on workers' compensation remedies the disparity in the law in which unmarried workers who file claims make on average 5 percent less than their married counterparts regardless of the number of children they have. This proposal was the only bill in the article that could directly affect single parents. Sponsored by state Sen. Rebecca Saldaña, D-Seattle, it seeks to realign the rates regardless of the individual's marital status.
On Thursdays, I share a blog about a day in the actual life of a single parent.
Starting the summer of 2021, my son, Joseph, is writing a monthly column titled In My Son's Words where he describes his experiences as a teenager and as a child of a single parent.
Twice a month, instead of a personal post, I put together one where I assemble news on and about single parents nationally and globally.
I would love to hear from you! Feel free to send any comments and questions to me at singleparentandstrong@gmail.com. I am also on Twitter @parentsonurown and on Facebook.